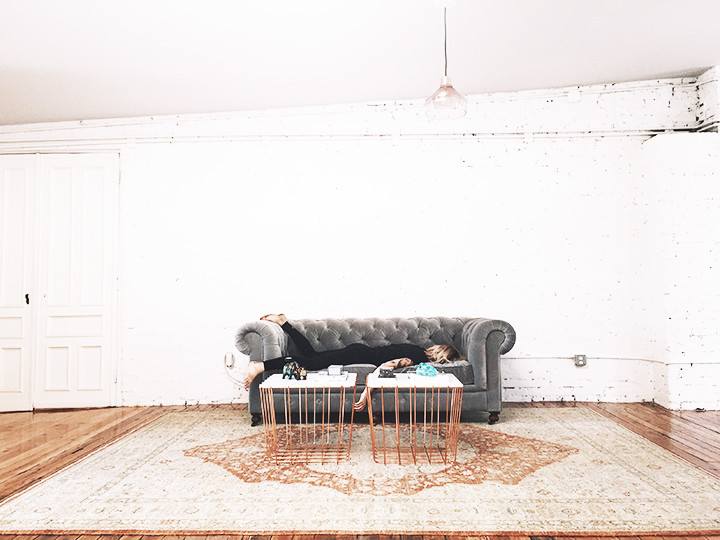 I'd like to introduce you to my friend Jen Jones, pictured above exactly one week after opening her very own yoga studio. Like a lot of the podcast guests, we met on the Internet through a mutual friend. We kept planning to get together, somehow the inertia of New York's crazy go-go-go lifestyle prevented it from happening for years. Lucky for us, it was fate. As time passed it became apparent, mostly through Instagram, that our interests overlapped more and more. I'd see Jen comment on my IRL friends' photographs and I'd reach out, or vice versa, attempting to schedule coffee or tea. We interacted with the same real sincerity you'd express on a dear pal's post, exchanging high vibes whenever we could. It was a special relationship, it had meaning without ever having met, like pen pals circa 1997. Four years later, we managed to be in the same place at the same time. I learned that she'd gone through yoga teacher training at Prana Yoga, taught there for a while and made some ladyboss moves to the now world-famous I.AM.YOU yoga, which in my experience is part yoga part bootcamp in the living room of a very swanky downtown gal, Lauren Imparato. After honing her skills under Lauren's leadership, she opened up a beautiful studio of her own, New Love City. Since many of you are yogis and are interested in opening your own business, I asked Jen to tell her story for us here — she relays the highs, lows and how-tos of a successful studio. I couldn't have asked for a more beautiful delivery. Without further ado, here she is.
"Let that be ENOUGH for today," says Emily, firmly. It's not a suggestion. I have nothing left in the tank with which to protest anyhow, so I splay my arms and legs out wide, giving the whole of my weight to the floors, the gorgeously cranky and questionably patched old hardwood floors that I love so desperately. If there's a more heart-wrenching way to love a floor than desperately, I don't know what it is. "That's enough," she repeats. "Close your eyes."
It is enough. It is more than enough. And so am I.
My name is Jen Jones and I am the owner and founder and an instructor at New Love City, a brand-new baller yoga studio and co-working haven in Greenpoint, Brooklyn. Emily is one of the teachers at my studio, home of the aforementioned heartbreakingly good floors. I picked her to teach here because she's every bit as epic as the floors and I wouldn't have anything less. Similarly, I opened the studio because I felt like I had something epic to offer as a business person, a yoga teacher and a general human, and I was tired of not caring enough and offering less than all that I had. After years and careers spent fighting for scraps of purchase, I decided that I would have room to be louder if I went it alone (and god knows I love a bit of volume). So I did, and here I am, sitting cross-legged on the couch at New Love City. It's week two of operation and I am between classes, completely exhausted and terrified and happier than I've ever been, writing to you about my experience as a business owner in New York. Simply put, it's the greatest and worst but mostly greatest thing I've done with my life so far, keeping in mind that I don't have any children.
Here's how it went down.