If you're looking for the perfect pair of underwear, whether you like briefs, a thong or boxer-style boyshorts, I highly recommend Sloane & Tate. The California-based indie label specializes in filling a need design-trio Eliza Landesohn, Theresa Martin and Susana de la Rionda felt wasn't being met: well designed, slightly androgynous and extremely comfortable underthings.

 No doubt inspired by the west coast free spirit where Sloane & Tate has its roots, the pieces are meant to be mixed and matched, worn alone or under clothes. All I had to do was touch it — the supima cotton these pieces are made from is one of the softest, most unfussy materials I've had the pleasure of touching, and the silhouettes fall into that gray area between innerwear and outerwear I love so much. 

These three hardworking ladies have a team dynamic I love: rather than the typical silo-ed structure based on skill sets alone, they each do a little bit of everything. Theresa herself is the face of the brand! Each one of them ever so kindly participated in this interview, which is why this one a a bit longer than usual, and it's warranted because it's basically three different interviews in one. Thank you, ladies!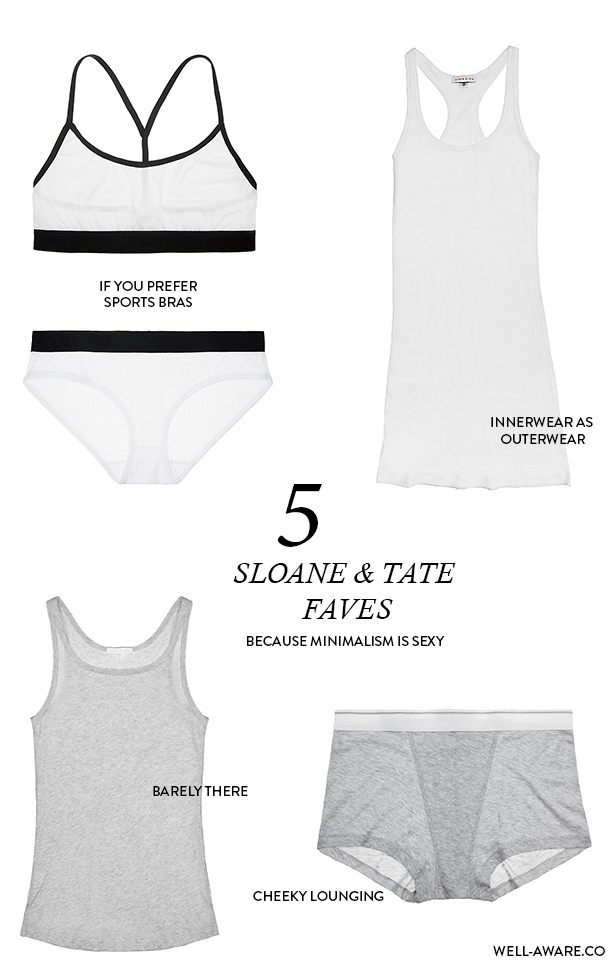 From collage: if you prefer sports bras or briefs / innerwear as outerwear / barely there / cheeky lounging
Without further ado, an in-depth conversation with Sloane & Tate!
Who or what inspired you to design for a living? 
Eliza Landensohn: Before I started Sloane & Tate, I did not relate to the brand images of the other lines. I didn't want to look like a Victoria's Secret Angel, I didn't want to wear sexy lacy French lingerie, but I also cared too much about the fabrics that were next to my body to want to wear Hanes. So I was inspired by the fact that I couldn't find what I wanted and realized I could do something about it. The Sloane & Tate brand was born out of that and it turns out there were a lot of other people out there who were looking for an innerwear brand that they could get excited about.
Susana de la Rionda: Innately, I have always been drawn to a cohesiveness that seems to emerge in art, design and architecture. I'm obsessed with a bold well-integrated aesthetic and am inspired to unite those parts into a unified design.
Theresa Martin (who is also the Sloane & Tate model!): My inspiration to design truly comes from within my soul. I have been designing, styling and modeling since I was little. I would beg my mother to buy me EVERY fashion magazine each month and that is where my love for fashion and my inspiration for style, cuts, colors and patterns began.
Why innerwear and underwear (as outerwear, in some cases)? 
EL: It's a really overlooked part of fashion. There's a lot that can be done with innerwear and it hasn't caught the eye of a great number of designers in the past, so there's a lot of opportunity there to create new pieces. The other thing about it is, that when I design I try to hold underwear to the same standard as the fashion brands and categories.
SdlR: The term "innerwear" captions what Eliza and I feel our underwear truly is; a women's inner wear. It's her fist layer, her armor, her blanket, her confidence, her allure, and in some cases, depending on the piece, the mood and the woman, the only layer she will need, transitioning Sloane & Tate from "innerwear" to "outerwear".
TM: I have always had a passion for basics. I am a believer in exploring fashion through layering and that comes from my love for keeping my look polished and classic. I have found that if my look for the day has a great foundation it's easier to build on and that's what Sloane & Tate is all about. We want to be everyone's go-to basic. That piece that you look forward to putting on everyday and the piece of innerwear that makes you feel safe and brings you comfort.
What sets Sloane & Tate apart from other brands in the space? 
EL: Our attention to detail. We obsess over fit. Every 1/16 of an inch is important to us. This is not to say that our definition of fit is better than the line hanging next to us, however, it's just different. Even though we're the designers, we're also consumers just like everyone else. Therefore, we set out to be our toughest customer. We tailor our pieces in a way that we, as consumers ourselves love and can't live without.
TM: The fabric! Whenever we meet a new client, it's so great seeing their eyes light up as soon as they feel how soft the supima cotton is. I know as soon as someone touches the fabric that they are hooked.
How do you and your team make ends meet as young designers? 
EL: We've all made sacrifices in our own ways. Starting our workdays at 10PM because there are paying jobs that need to be held onto. Working on weekends and dwindling social lives. There have been days when the sacrifices and the uncertainty felt like more than could be handled. Or days for me when it felt like it would be easier to throw in the towel and get a "traditional job" working for a large conglomerate and saving for a house and a family. But inevitably, the next day, there would be the email from the incredible store who wanted to carry us, the satisfied customer who emailed us to let us know how now she won't wear anything other than Sloane & Tate.
SdlR: I literally work two different jobs, not including Sloane & Tate, to keep my materialistic needs quenched. My day job, when I am not crime fighting fashion faux pas as "Sloane Ranger," is as Human Resources Manager for a not for profit organization. My second is equally as dull and requires math.
TM: Our obsession with underwear and creating underwear helps get us through some of the tough times when we don't want to go to our second or for some of us third job! At the end of the day our team is so happy to get together because we all believe in what we have created. Our goal is to be a successful lifestyle brand and with that comes hard work and determination.
Your pieces are so simple and "Saturday morning sexy." To me, it plays off the idea that even the most basic pair of white boyshorts (which, for the record, are terribly hard to find!) can be arousing. How did you decide on this aesthetic? 
EL: Every woman has either stolen a pair of her boyfriend's underwear or purchased men's undershirts or boxers. They're comfortable, they were probably more well made than the women's options. And there's something slightly rebellious about it, no matter what your style is. It wasn't even really a decision, as much a realization of I want this and I can't find it… and so do all of my friends. There's a need for this and I want to satisfy this need.
SdlR: When an article of clothing, specifically underwear, doesn't seem to be working or is literally missing from the market, chances are, if the three of us are feeling a need, other women are too. Women have been borrowing/absconding with their boyfriends boxer shorts for years, it only makes sense that it would eventually occur to us to create a pair of our very own, using a lightweight, ethereal fabric cut to our female form.
TM: Eliza said from the beginning that she felt like something was missing in the market when it came to women's underwear. From that struggle she was able to start the process of finding the perfect male inspired innerwear line. Sloane & Tate is about bringing it back to the basics. The simplicity of Sloane & Tate is so appealing to women. There is a place for lace and there is a place for silk but for many women they find the most comfort in a great pair of cotton underwear and a great cotton tank top. I personally think that there is nothing sexier than a woman wearing a white tank top and matching white underwear…That look is so effortless and classic.
What is the inspiration for your current range? 
EL: This is always a tough question for me to answer each season. The inspiration comes from so many factors and aspects of my life. I never really work with a "Rock 'n Roll meets Summer Sunsets" type of classic fashion inspiration. It just feels so contrived. The inspiration comes more from a what are we going to want to be wearing next season and what is going on around us in terms of art, music, literature, technology. It's really a more organic blending of inside and out process for me.
TM: Right now the team is excited about finding some new yummy fabrics! We were lucky enough to get our hands on an incredible double knit that we want to make in every style!
I love how the pieces are menswear inspired, but still feel feminine. Tell me more about how you were able to achieve this successfully. 
EL: The only downside to menswear is that it doesn't fit a woman's body as well as we want it to. So that is what we set out to do. To take the best of both worlds and reinterpret mens' classics, to add and subtract everything a woman would want.
SdlR: Fit. Fit sessions. Fit conversations. More fit sessions and finally fabric. What I mean by all of that is, we do countless fittings with all types of women and ask hundreds of questions about what each woman is feeling in our "innerwear" in order to ensure the perfect amount of torque, proper placement of a seam and even the weight of the elastic to determine a sexy and comfortable fit. Lastly, I have to admit, the 100% supima cotton we use drapes across a woman's body so evenly with a subtle sheerness that almost seems accidental. Only we know better. So, put simply, fit + fabric + menswear inspired design = a slightly androgynous feminine line of Sloane & Tate.
TM: I find most of my fashion inspiration and style inspiration from menswear. It's that simplicity of throwing on a pair of jeans and your favorite white tank top that gives off a carefree attitude. Women often put so much, sometimes too much effort into the end look. The woman who throws on something that comforts her and scales back on the makeup and hair routine has a glow to her! That's the kind of women who embraces her inner beauty and it shows on the outside.
Do you plan on coming out with a men's range as well? 
EL: We are currently working on a men's line. I am counting down the moments until we can introduce it. We get so many requests from men, wishing Sloane & Tate came in their sizes. When designing our women's line, we look at both women's and menswear.  I prefer to wear menswear, so I'm excited to pour all of that passion for menswear into a mens' line in addition to our women's line. The real question is…. if Sloane & Tate women's is a menswear inspired women's line…. what will be the Sloane & Tate take on a men's line? That's what we're working out right now.
SdlR: We absolutely do. We can't leave our men out of having something luxurious and soft to wear.
TM: Girl, it is coming!!! Our team has been working on a men's line this past year.  We've discussed fabrics and cuts and we cannot wait to get the line out there. We have so many male customers who love the line so much that they buy a larger size just so they can wear the luxurious fabric! I know as soon as we get it out there it's going to be a hit!
Sloane & Tate pieces are designed and Made in LA, which I absolutely love. Why did you decide to go local?  
EL: There was never a moment when we considered producing the line anywhere other than Los Angeles. The city inspires the ethereal feel, the relaxed sophistication of the line. Also, it is of paramount importance that we know exactly who is sewing our pieces, where it's being made. We visit the factory on a daily basis when we are in production. It's not just a matter of keeping an eye on the details and the quality of our pieces, it's also because we believe that the environment in which the pieces are made, permeates throughout them. We believe in the importance of promoting and participating in positive and ethical working conditions. Absolutely no exceptions.
TM: This is probably one of the things our team is most proud of! It's so important for us to be able to look over our production and make sure that our pieces are up to our standards. We love visiting the factories and knowing that the men and women who are helping to bring our dream to life are happy and that they enjoy their jobs. I believe that all of us have a tremendous amount of energy and I want to know that the person making my goods are pleased at their job and putting that good energy into each piece that they help create.
As a brand that designs outside of the classic "lingerie" bubble, was it like to be picked up by Journelle and Shopbop? 
EL: Sometimes stores aren't sure how to classify us. Are we lingerie are we sleepwear, are some of our pieces outerwear? I think the answer to all of those questions is yes… and that each and every one of our customers wears Sloane & Tate in their own way. With such a streamlined product offering, sometimes it's confusing to stores that they can't put us into one box or category. We are so grateful to have been picked up by lingerie specific stores like Journelle and by stores that carry everything from outerwear to shoes, like Shopbop.
When the line was first being dreamt up, I envisioned Barneys the perfect home for the collection. It later became our first account.
SldR: It's a mix of emotions because I feel so humbled by the Journelle and Shopbop and feel incredibly validated to move forward with our designs.
TM: Having a store like Journelle or Shopbop carry our line is such a big stamp of approval. It is so rewarding to know that something simple like a White or Black Tank top from Sloane & Tate can hold up against the lace and satins of the world. I think that there is always room in your lingerie drawer for multiple prints and fabrics but nowadays I find that keeping simple with a cotton set can be just as sexy as a silk sleep dress.
What advice do you have for aspiring lingerie designers? 
EL: Create what you love. This will never lead you astray. Sloane & Tate to the core is what I love. As the collection continues to grow, anytime I feel like we're making choices and creating a piece that I don't love and must have and wear everyday, it's not the right choice. Also, don't listen to the naysayers. I know this has been said a million times. But if you truly believe in what you want to create, then don't let anyone tell you it won't sell or it won't work. Even if someone else is already out there doing it, there's always room for a new player to come in and do it better or from a new angle.
SdlR: Look around you. You have more resources than you realize.
TM: Stay true to yourself! Create something that you love and believe in and you will always win!
What is the Sloane & Tate woman like? Where does she hang out, with whom, and what does she drink?
TM: The Sloane & Tate woman is confident and strong. She is a traveler and is always up for an adventure. She loves to take care of her body and takes pride in making herself beautiful from the inside out. She likes to help others and loves to support American-made products.
What is a typical day in your life? 
EL: There really is no typical day as an entrepreneur / designer and that is what I love about it. I like that my Monday is completely different from my Tuesday. One day I may be meeting with store buyers and the next day I may be reviewing fabrics for our next collection.
TM: I love waking up and getting a good work out in. Right now I am obsessed with Soul Cycle. It gives me a boost of energy I need for the day ahead. I always grab a fresh pressed juice after class (after my 3 cups of coffee of course…seriously, I have a problem). Then I shower and meet up with the Sloane & Tate team. We are always running to our factory to check up on things or getting together to discuss new ideas.
What inspires you to create? 
EL: I'm a very visual person and I love minimalist art. So when I see something that produces an emotional effect, no matter what medium it's in (architecture, painting, interior design), I think about how it could translate into an aspect of my line. Minimalist art, starkness, beauty… whatever creates a mood. Also, when I see that something is missing, I can't help but think about how I can fill that gap. That's the most exciting part of creating…..because, as I've found with the line, there are other people out there who want the same thing I want and haven't been able to find it.
SdlR: My inspiration always comes from my own needs and desires for things I can never seem to find in the current market for women. If it doesn't exist, I am determined to make it.
TM: What doesn't inspire me!!! I am always thinking about new cuts and colors to add to the line and the inspiration for either can come from something silly like the way the curtains make a pattern on the floor or the color of paint on the wall. I just returned from Rome and man, the colors of the sky at night really blew me away! There was a shade of pink at sunset every night that took my breath away. Those are the types of things I remember and find their way into my personal design ideas for the season.
For Theresa: you're literally the face of the brand. Any tips on how to look great in lingerie on camera (anything from fitness, food, posture, tips or tricks)? 
TM: Well, I must admit I am a HUGE foodie! I love cooking so much that I have had to make some other adjustments in my life like balancing my diet and staying active. I love eating so much that I know I will have to put the effort in at the gym. And it is all about moderation. I am freak and I actually love drinking green pressed juices and raw veggies but I also can't say no to a bowl of pasta. I know that if I fill up on the right veggies and fruit that having a bowl of ice cream here and there is not going to kill me.  Once I let go of trying to eat the perfect diet and over doing at the gym I actually started to love my body and in fact that's when I saw real results.
What's the best advice you ever received, how has it shaped you and your brand? 
EL: Keep it simple. Inevitably even the most straight forward concepts, ideas and plans get complex, so I try to adhere to this rule as much as possible.
TM: You have to love yourself before you can begin to love anything else. As soon as I let that advise sink in I realized it was ok to take care of myself first!  By doing this I have become a better partner, friend and all around human being. Learning to love myself has made me a better woman!
What is your street style like, do you have a style signature and who are your favorite style icons? 
EL: Casual, androgynous, monochromatic. Whatever style I'm going for, most important to me is fit and fabric. The pieces have to hang well and fit correctly.  It really doesn't matter what you're wearing, as long as you feel confident.
TM: You can always find me in wearing a pair of skinny jeans, white tank top and a great leather jacket. As far as my style icons go I don't know where to begin! I love Kate Bosworth, Lily Aldridge, Jenna Lyons and the Olsen twins are always creating something incredible!
What's the last book you read? 
EL: I'm currently reading a biography of Mick Jagger by Philip Norman.
TM: It was not Fifty Shades of Grey and I did not enjoy all three books in one weekend. (Are you buying any of this?) Ehhhh ok, you caught me. I'm obsessed. And yes, they were amazing.
Weirdest thing in your handbag?
EL: I don't carry a handbag, but I do have 15 British pounds in my wallet, accidentally leftover from my recent trip to London.
SdlR: Loads of old fortune cookie fortunes. You never know when you may need a little motivation.
TM: The "L" button fell off of my Mackbook and it is currently sitting in a zip lock bag in my purse. It's been there a while. Yes, I am lazy.
Tell us a cool/weird/fun/interesting fact about each of you. 
EL: I spent my early childhood in Asia and attended a British school in Hong Kong.
SldR: Eliza and I (Susana) are both Aquarius' the sign of genius and madness. I can be, on occasion superstitious. I do an amazing impression of Kermit the frog.
TM: I have to rub my feet together in order to fall asleep. I had a sprained ankle recently and I could not fall asleep! It was torture!
Most prized possession? 
EL: A massive Bauhaus book that I inherited from my grandmother.  She was a fashion illustrator and I feel very connected to her love of art and fashion.
SldR: My navy blue vintage "I've Got the Crabs" t-shirt.  My mother bought it as souvenir from a crab shack restaurant in Miami. It was a hand-me-down to me from her when I was about 7. At that time it was a nightgown, now, it's a faded blue shirt that I've owned practically my entire life that always reminds me of how hilarious my mother is.
TM: My wedding rings. If I forget to wear them (which is rare) I feel lost.
What could we find you doing if you're not designing, modeling or working on the label? 
TM: Cooking! I am always in the kitchen or searching the web for amazing recipes. I would LOVE to be a professional chef someday.
What are three things every woman should have in her closet? 
EL: A crisp white button down, a great pair of tight black jeans, a well-worn black leather jacket… and a drawer full of Sloane & Tate.
SdlR: Black well fitted/cut blazer from Helmet Lang or Theory that is classic and translate from day to night. A white simple button-down shirt. A black or dark denim pair of skinny jeans.
TM: Black Leather jacket
The perfect White T-shirt. You know, the one you have to buy three of in fear that they won't make them again. A killer Statement hat like the Borsalino fedora I just picked up when I was in Rome.
Eliza Landensohn, Founder and CEO of Slone and Tate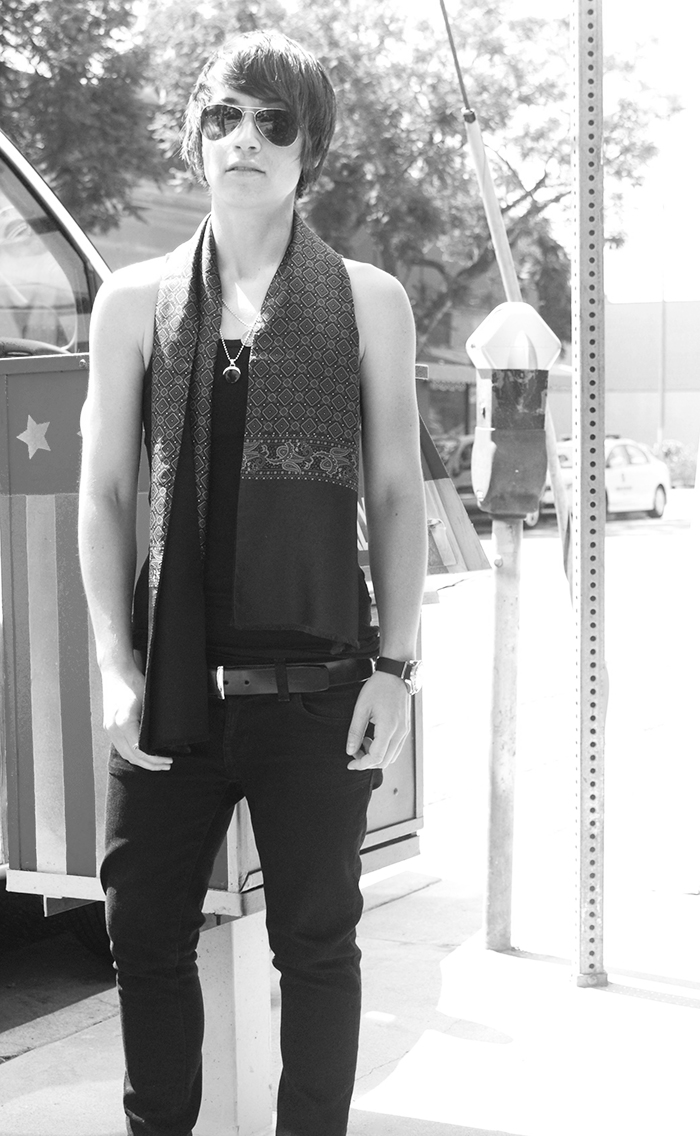 If you could only choose one…
Eliza's Picks:
Pair of shoes:  Saint Laurent patent leather oxfords
Top: Burberry leather jacket
Jeans: Kill City Mens Junkie
Bag: Goyard trunk
Fragrance: Tom Ford Private Blend
Jewelry accessory: Cartier Tank Watch
Eliza's Favorites:
Band: Ryan Adams
Food: Grilled cheese animal style
Drink: English Breakfast tea latte
Ice cream flavor: Mint Chocolate Chip
Artist: It's a tie between Gerhard Richter and Elizabeth Peyton
Photographer: Cindy Sherman
Designer: Saint Laurent
Lingerie Brand (other than your own!): All Sloane & Tate all the time, nothing else can compare.
Shoes: Saint Laurent high tops
Restaurant: In-N-Out
Lingerie shop: The Barneys Lingerie floor and Journelle
Beauty product:  Yi-zhi Baume
Theresa Martin, VP of Design & Production at Sloane & Tate (and the current face of the brand!)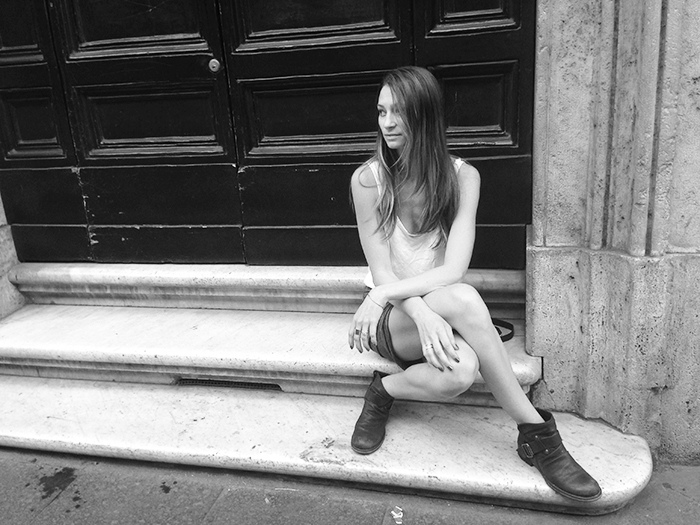 Theresa's picks: 
If you could only choose one…
Pair of shoes:  Right now it's my new Nike frees… They are like slippers and I never want to take them off. Ever.
Top: Oversized cashmere sweater
Jeans: I have a pair of naked and famous jeans that I wore everyday for two weeks. They are so comfortable and the color blue is just dark enough it goes with everything
Bag: My sister gave me a Duluth pack years ago that I am obsessed with and being from Minnesota I love supporting my home state!
Fragrance: I am currently mixing a few Diptyque scents together to make a my very own signature smell
Jewelry accessory: Well, I did just get my ears double pierced and I am such a nerd about it I seriously ask my friends multiple times a day to look at them! I'm so proud!
Theresa's Favorites:
Band: Radiohead can do no wrong
Food: Osso Bucco
Drink: Red wine! Red red wine you make me feel so fine. (sorry, I couldn't resist)
Ice cream flavor: Mint Chocolate Chip
Artist: My brilliant and Insanely talented friend Lia Halloran
Photographer: Annie Liebovitz
Designer: Celine (swoon)
Lingerie Brand (other than your own!): Kiki de Montparnasse
Shoes: 
Restaurant: Pace
Lingerie shop: I love shopping in Journelle! The store is so inviting and warm and they pic such beautiful pieces from some of my favorite brands….like Sloane & Tate!
Beauty product: Eau Thermale Avenue light hydrating facial cream. I love Everything from this line but this facial cream is so great anyone with sensitive skin.
Susana de la Rionda, President of Sloane & Tate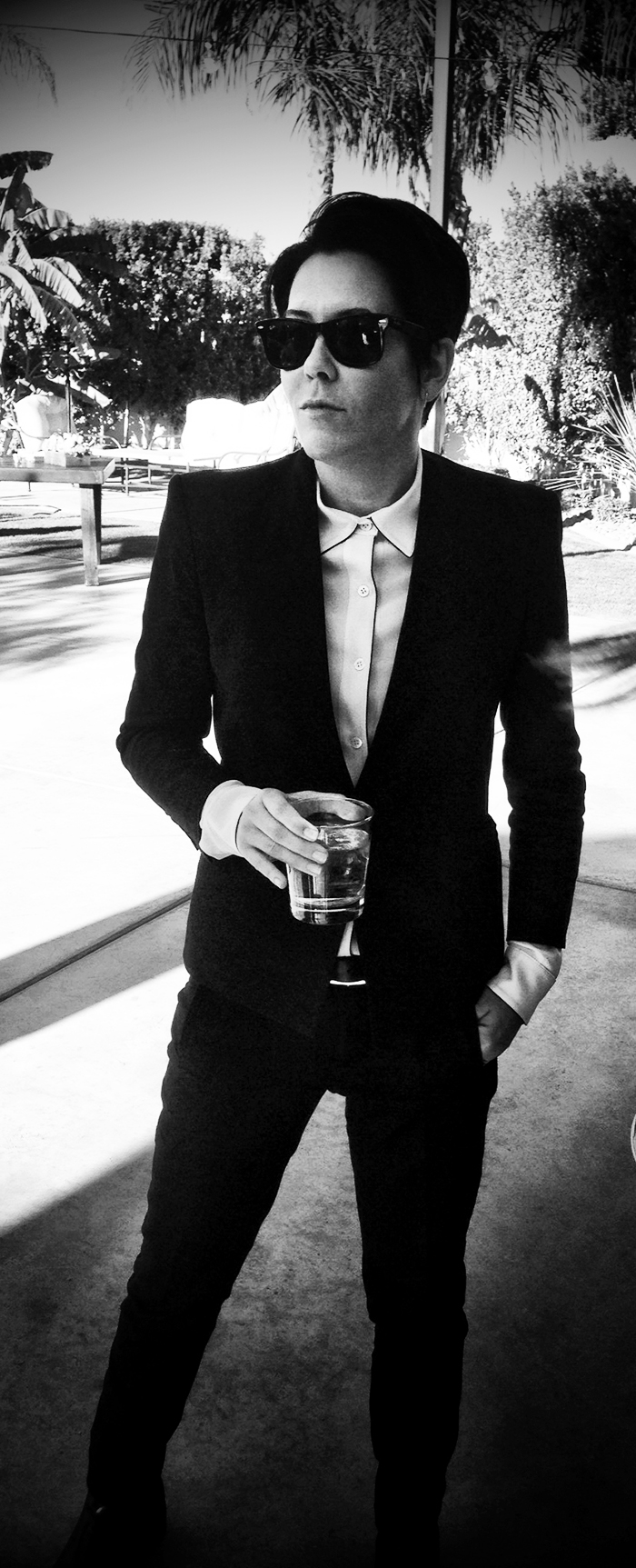 Susana's Picks:
If you could only choose one…
Pair of shoes:  Dr. Marten's 8 hole black on black boots.
Top: Can't go wrong with a slightly oversized snap western inspired denim shirt
Jeans: G-star
Bag: Backpack, HEX
Fragrance: Comme des Garcons
Jewelry accessory: Gabriela Artigas earrings
Susana's Favorites:
Band: Radiohead, Big Deal, Passion Pit, Neon Indians, Robyn, Phoenix, Bombay Bicycle Club, Fleetwood Mac, Sleigh Bells, Beach House, Grizzly Bears, Trespassers William, Arcade Fire, T.V. on the Radio, Active Child and Feist
Food: Cuban
Drink: Cream Soda
Ice cream flavor: Ben & Jerry's Chocolate Fudge Brownie
Artist: Lia Halloran
Photographer: Brian Duffy & Bill Cunningham
Designer: Alexander Wang
Shoes: Dr. Marten's boots, Frye Oxford's, Vintage Nike's
Restaurant: PACE
Lingerie shop: Journelle
Beauty product: ARCONA Raspberry Clarifying Pads
Where do you see your team and the label in 5 years?
EL: I see Sloane & Tate coming into its own as a lifestyle brand.  There are so many possibilities!
TM: I'm hoping by then Kanye West will be dropping our name in his newest rap. I mean, a girl can dream.
Any new projects in the works?
EL: We are about to release our first official Sloane & Tate video, which will be premiering on our website.
SdlR: We are really excited about working with new woven fabrics and colors that will allow us to build upon our already established basics.
And of course, what's next for Sloane & Tate?
EL: We are dreaming up our AW14 and it's going to be amazing. Get ready!