Ah, beauty. I've always admired women who have a set beauty routine. My grandmother, who had amazing skin well into her eighties, used Clinique moisturizer and swore that it kept her skin youthful for decades. My mom gets her roots done every four weeks on the dot, and she's been seeing the same stylist for fifteen years. One of my super stylish former colleagues always wore a berry red lip. I admire the commitment and dedication it takes to rock one look, and to adopt that look as part of one's identity, whether it's a visible signature or invisible ritual. It's hardcore.
When it comes to beauty, I am not one of these women. At least, I wasn't until recently. I'm always on the lookout for something new, improved, greener, less toxic and more effective. I'm experimental and have dozens of sample jars and tubes to prove it.
But after years of experimenting, especially since getting into natural beauty about a decade ago, I've finally found products that work for me consistently. I'm sure I've spent thousands (!) of dollars over the years on beauty products and treatments, and especially lately (with my wedding around the corner… (!)) I'm looking for products that make the biggest impact. My goal, especially with skincare, is to not have to wear much makeup. With this routine, I've pared everything down and am happy to report that I'm almost always bare-faced.
Lots of you ask for natural beauty product recommendations, and I'm excited to finally share the "holy grail" products I keep coming back to, that work for me time and time again. I'll experiment and share new finds as they come, but I always have these on hand.
SKIN DIAGNOSIS
If there's one thing I've learned, it's that everyone's skin is so, so different. I took recommendations from store owners, sales people, PR people, product makers, online reviews and friends. Some worked, some didn't. I think when evaluating products and sharing a routine, it helps to put it in context. I tend to have pretty decent skin overall. It's far from model-perfect but I'm not healing anything major, perhaps other than my scalp. My main qualms are:
slight discoloration
uneven texture
fine lines
sensitivity
a perpetually flaking scalp (I know, it's gross and I'm embarrassed!)
tendency toward dryness
I think these are pretty common. These days I'm also usually some kind of sleep deprived, and the first place that shows up is in my skin.
SEASONALITY & SKIN
Interestingly enough, these products have worked well through the seasons. What I eat changes more than what I actually put on my skin, and I've learned in the last two months or so that the skin is a communicator. It reflects what's going on inside. I'm working with a trainer (game-changer by the way, more on that to come…) and she's been helping me assess functional movement, strength and nutrition. I've been eating super clean with the exception of a daily almond milk latte that I, at least right now, refuse to give up, 85% dark chocolate (almost nightly) and my bachelorette weekend. You gotta live life, too! But since going super clean, I noticed an immediate difference when I drink or indulge, and most notably when I eat processed foods. That's been my biggest takeaway, finding a nourishing diet. Eating mostly plants and ensuring I get a good balance of protein and healthy fats has worked really well for me. Consistency is key. It's really so simple. If you want to hear more about this, let me know in the comments.
HAIR & SCALP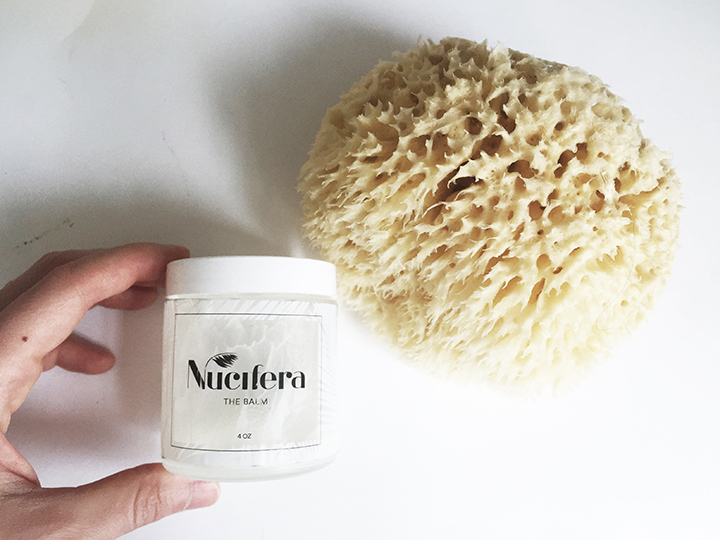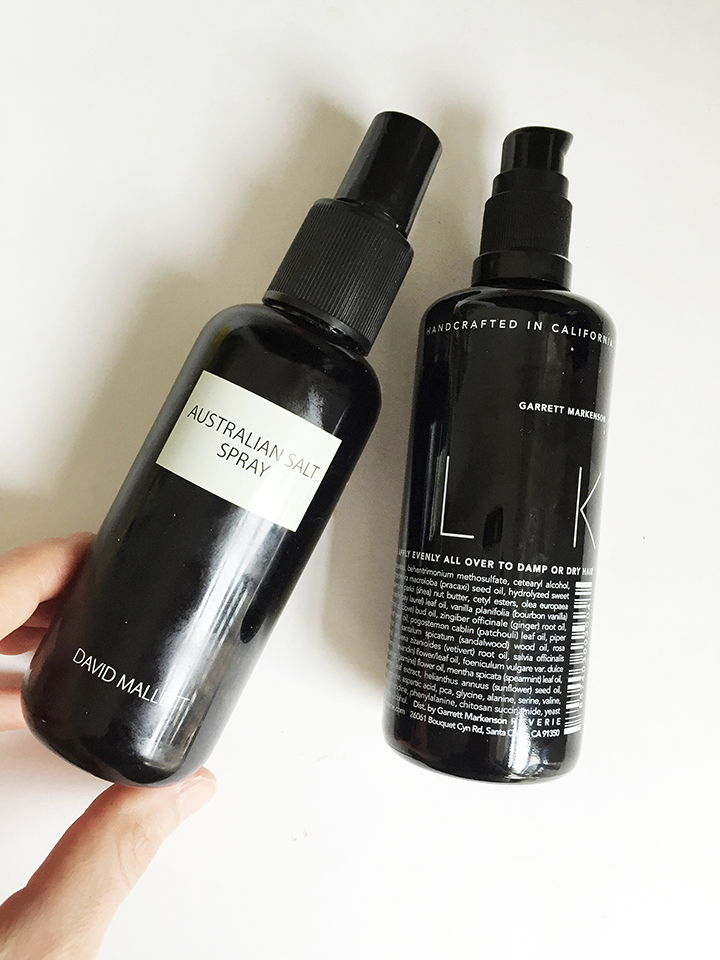 There are only two things that have healed my flaky scalp. Head & Shoulders is one of them, and I'm not proud of that. But when your scalp is flaking and it just won't stop, and you're trying all the natural remedies you can find but nothing works, you will eventually give in. Especially when most of your wardrobe is black. I've tried everything: baking soda as shampoo, no-poo, apple cider vinegar rinse, scalp treatments, a variety of natural and organic nourishing scalp shampoos, coconut oil, literally everything. Until I found Nucifera. This was a glorious aha-moment and truly the only thing, other than Head & Shoulders, that actually clears my scalp. It smells amazing, and as it turns out the founder has a similar scalp story and experience. It's worth noting that Nucifera is mostly made of coconut oil, so naturally I thought that straight coconut oil would be a less expensive alternative. Alas, I tried and it failed. Nuci is where it's at.
So now I use the Nucifera Balm once or twice a week as a hair masque. Here's how I apply:
Concentrating on the hairline and part, apply Nucifera Balm with fingertips
Distribute a thin layer over the rest of the scalp
Rub it in really well, spending up to 5 minutes just applying and rubbing
Run a paddle brush through hair and over the scalp with a zig zag motion motion
Bristles should be lightly scraping the scalp, this will exfoliate and help the product penetrate
Clip the hair up, read your blogs, listen to your podcasts, etc.
I leave it on for a few hours before shampooing it out. I've been loving the Rahua Volume Shampoo recently. It has a nice balancing effect with the balm, it strips the balm out without inducing a scalp flare up. It's perfect.
When I'm blow drying, my biggest problem is getting my hair to actually hold a style. It tends to be more oily and limp, so I'll often skip a rinse out cleanser and go for this leave-in duo. The salt spray and MILK Leave In Conditioner work really well in concert for both blow drying and air drying. I use the MILK sparingly and on my ends because my hair is on the oily side, and I don't apply the salt spray until I'm done blow drying. It gives the hair texture and hold, and I wish you had scentovision because it smells divine.
Rahua Volume Shampoo (not pictured, because I'm out!)
David Mallett Australian Sea Salt Spray
SKIN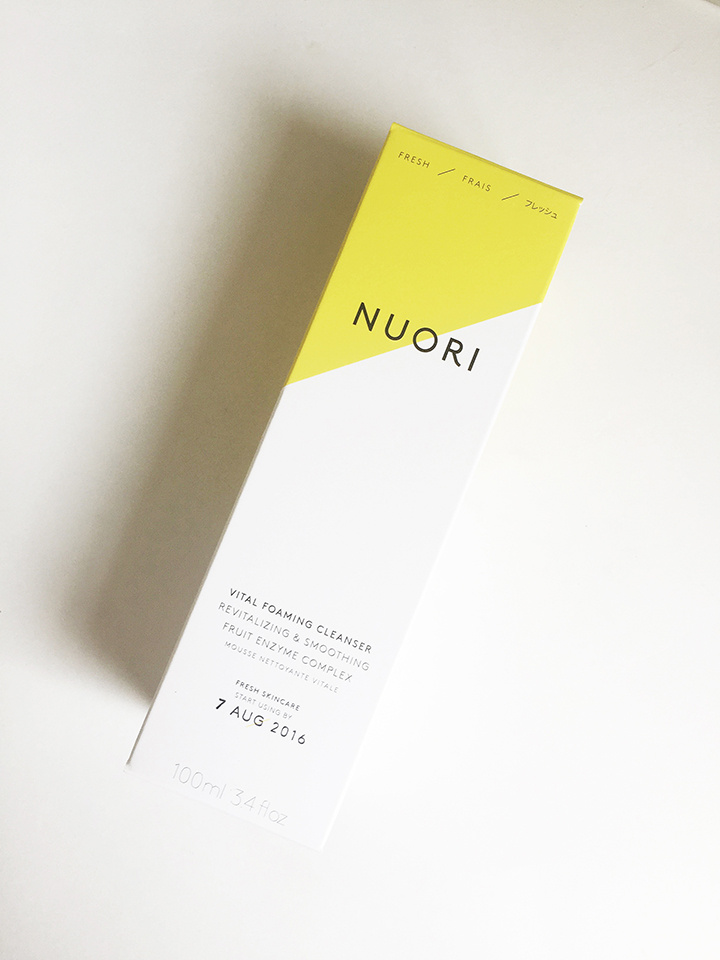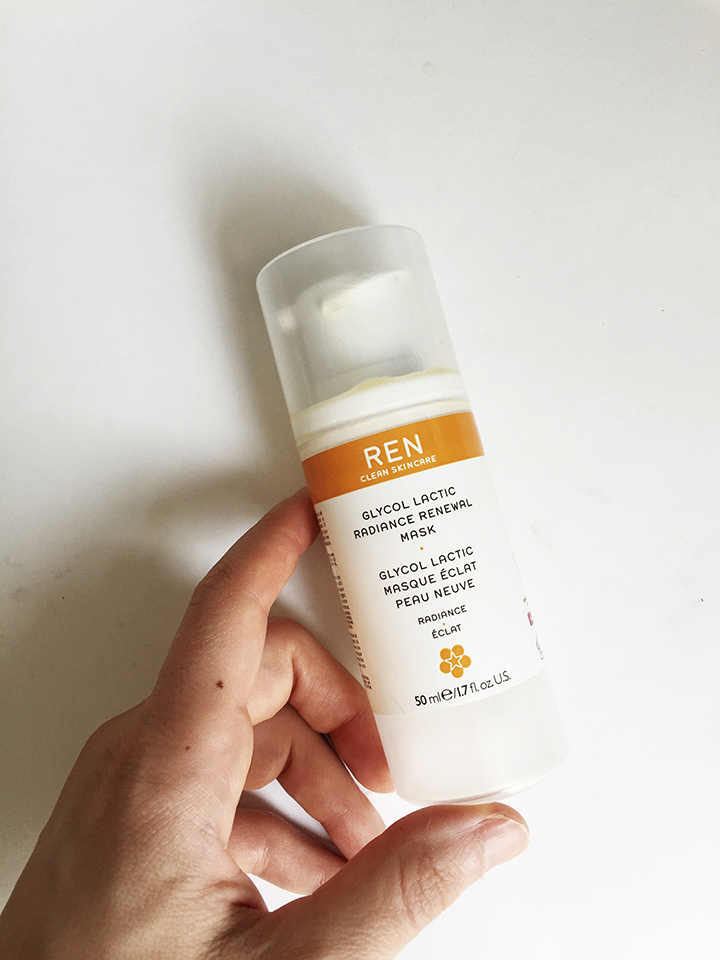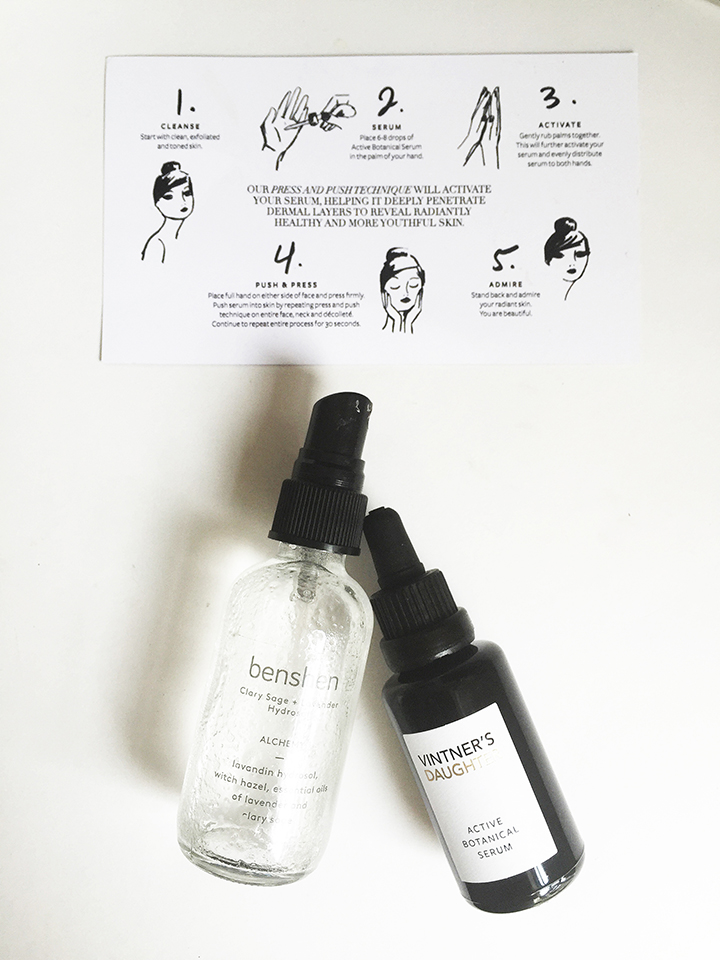 When I settled into this routine, it felt like I cracked a code. Finally, I'd found effective, natural products that didn't dry out my skin, or make it break out, and kept it looking radiant even during that time of the month. The REN mask is one of the only products that can subdue my hormonal acne, which tends to flare up after going off birth control (nope, not to get pregnant, but for hormone health… another post for another day). I like to use it twice a week, especially before events. Using the Pai Muslin Face Cloth after the mask is like adding an extra radiance boost — it sloughs off any remaining dead skin cells, smoothes fine lines and makes skin extra receptive to a serum.
The Nuori cleanser is the first foaming cleanser my dryness-prone skin can handle. I usually cleanse at night only, to take makeup off. In the morning I do a splash of cold water, but I use my Pai Muslin Face Cloth whether I'm using the cleanser or not (the cloth is really key!). Nuori was actually recommended to me by April who created Vintner's Daughter, the serum that's the become center of my skincare routine. If there's one product or combination of products you get from this post, it should be the serum and the hydrosol. Yes, I'm recommending a $185 serum. Why? Simply because it works and is 100% natural. You can see in the photo the "push and press" process for applying. Do this. Do not rub it in. I couldn't tell you why, but it's far more effective. (Footnote: I've interviewed April about the process behind the oil, and her dedication to the highest standard is so admirable, it's something you don't see very often.)
I once had an aesthetician tell me that using oil alone is actually drying for the skin. I'd been doing that for a while and I thought, absolutely not, how can this be true? Oils are supposed to be the most hydrating, right?  I looked into the science and it does in fact makes sense, as the oil blocks water from entering the skin, where it can externally hydrate. So I started mixing my face oils with BEN SHEN's toner. I do 4-5 sprays of toner and 4 drops of oil. It's a win-win: the $185 oil serum lasts longer and this process keeps skin hydrated with an oil and water mixture. You might remember Desiree, the founder of BEN SHEN, from episode 8. This combination is my "moisturizer," it hydrates and brightens and imparts a glow… especially after a cleanse and REN mask. If I do this routine before bed and get a good night's sleep, my skin looks incredible in the morning. It kind of makes me wish I discovered this combination sooner!
REN Glycol Lactic Radiance Renewal Mask
BENSHEN Clary Sage + Lavender Hydrosol
I'll also share that one of the biggest game changers is to get your skin professionally treated. I've never been the once-a-month facial girl, I think that's too much. But I try to go at minimum every six months and, when I'm at my best and financially able, once a season. Your skin's needs  will be different depending on many factors, including the weather and what's going on in your body and your life. For facials, I love going to CAP Beauty and Shamara at SB Skin, who does an uplifting microcurrent facial.
FRAGRANCE
So, here's a funny story about Schmidt's. I asked Aaron to try a new deodorant because I liked the smell. I didn't tell him he'd be switching from Old Spice to something natural, I simply asked him to give it a go. Sure enough, he loved it and after a week of testing he said it was just as good as his Old Spice. WIN. How to get your significant other to try natural products? Don't tell him or her that they are natural :).
For myself, I do have to reapply the Schmidt's after a workout, or generally after eight hours, but it's one of the best smelling natural deodorants I've tried. Another bonus is the texture. Often natural deodorants are too dry or too wet making them difficult to transport and apply, but this one comes in stick form and is just right. It does leave a little white residue under the arms, but who cares? Not moi. Aaron is currently using the tea tree scent (though has also used and approved of the cedarwood), and while I'm currently on geranium I do like the lavender sage, too. The only one I don't love is the ylang ylang. I'm a big fan of ylang ylang as a scent, but something about it doesn't translate in a deodorant.
Schmidt's Deodorant in Geranium
MAKEUP / FINISHING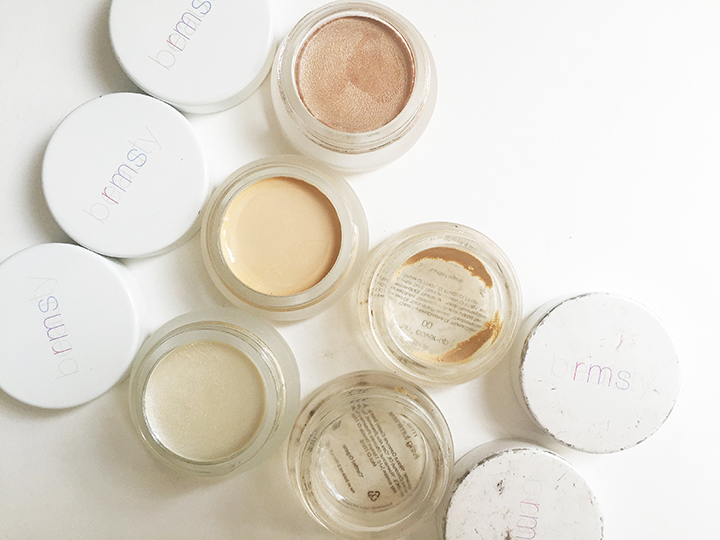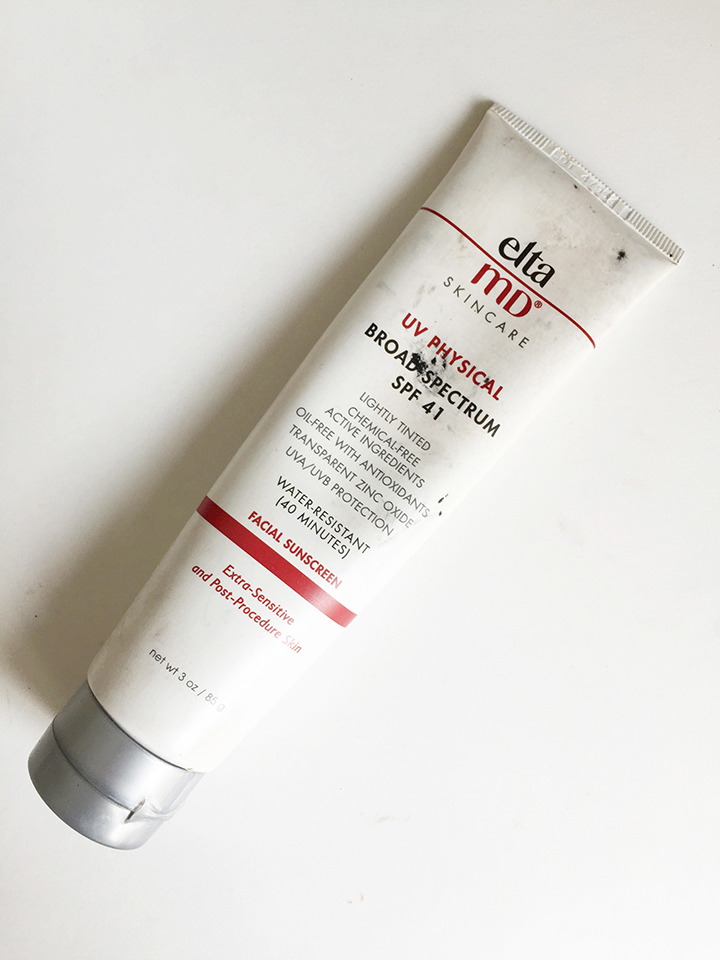 My goal with makeup (at least for the everyday) is to not have to wear too much. After moisturizing per the skincare routine above, I dab a little bit of my RMS Un-Cover Up under my eyes and around my nose. I love that this makeup is actually good for the skin — it doesn't have any nasty ingredients that make it "stick" on your skin all day, so it moves with you. Because of this, you might have to reapply throughout the day, especially if you have a meeting after work. I don't mind this.
Then I apply the elta MD all over my face. In a pinch fingers are the perfect blenders, but I love to do this with a brush. It blends the cover up and foundation together nicely, and just makes for a more seamless look. To finish, I use my fingers to put the master mixer on my cheeks and eyes, I've been using it as bronzer. And I use the living luminizer on my cupid's bow and cheekbones for that #iwokeuplikethis ethereal look. If nothing else, I apply living luminizer. It's one of those miracle products — once you discover it, you'll wonder how you ever lived without it.
elta MD UV Physcial Broad Spectrum SPF 41 – lightly tinted
That's about it! Do you have any products you're loving right now? Or any that you've loved forever? Do you have a "signature" routine or are you an experimenter?