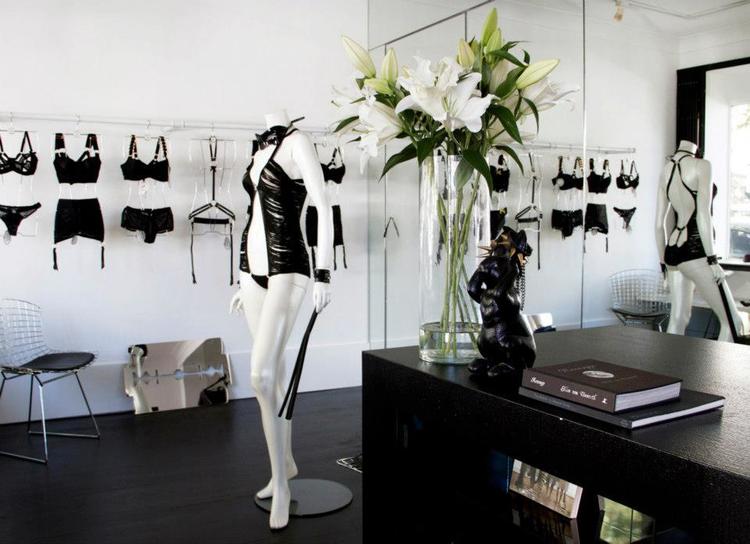 photo by Rita Zimmerman
When I found babylikestopony through the Internet (I forget exactly how I first stumbled upon it), it was love at first sight. But like most intense romances, it was a rollercoaster of emotions. First emotion: Be still my heart. How perfect is this store? I can't wait to visit. They have all of the things I want in my lingerie life. Second emotion: Nooooo, it's in Sydney, Australia! I couldn't believe I'd found a store that matched my tastes so well, naturally it's on the other side of the world. Thankfully, owner and absolute sweetheart Meg was super communicative and helpful with fit details, materials and telling the designers' stories. A slew of Facebook messages and emails and Instagram double taps later, I was so honored when she agreed to be interviewed for the blog. Her fashion forward curation of indie designers — some of which I already have in my collection like Lascivious and Bordelle, and others I discovered for the first time, like Don't Shoot the Messengers and Serpent and the Swan — is just so spot on. It's minimal, considered and ethically made. Even beyond that, the stark white and black decor of the boutique and website are a dream (and overlap quite a bit with my taste). I think it's a match made in lingerie heaven, don't you?
This interview is for anyone considering opening a retail boutique, lovers of minimal style and those who want more than lace in their lingerie drawers — daring outerwear, perhaps? Enjoy!
When did you open babylikestopony (and how'd you come up with the unique name ;))?
We started online with a basic product range in 2011 and did some pop up stores in Sydney. As we're entirely self funded, a soft approach was the only way we could do it; making a small investment, ensuring it worked and gaining confidence that we were on the right track. Our second pop up paid for itself so we committed to the lease of our first permanent store, which was absolutely tiny, you couldn't swing a cat let alone a pony, and this year we moved into our current space which is much bigger and shinier. It's been a constant refining of the product offering and continuous learning experience and no doubt will remain that way for years to come. As for the name, honestly it was days of researching and refining. We knew we wanted something unique, that we could own across social media etc. it had to be playful and approachable, nothing too serious or austere and also have a contemporary feel. We threw away some names we loved because they already existed in some form or another. We wanted to distance ourselves from the regular lingerie boutiques too because that's not what we are. The pony connection came about through joking one night with my partner that I wanted a unicorn, in response he made me the carousel unicorn logo the next day, so sweet. He said it symbolized me because it looked sweet and innocent but could actually be quite dangerous :). I loved it so much that I was keen to use it for the business so a couple of the potential names involved pony/unicorns. Once we had a short list we ran them by some friends who were our target market and babylikestopony survived!
How did you stumble upon a career in lingerie & luxury boudoir accessories?
Stumble is right. It was a mix of a few factors, firstly, frustration! We'd travel to Europe and see this whole different attitude, style, products etc. and wonder why we couldn't have something similar at home. So often anything sexy in Australia is really tacky and often male-focused, where as in Europe we'd see these awesome little boutiques that were proudly erotic but also stylish and sophisticated. We wanted a place that appealed to women of today, people like our friends and colleagues that are confidant and forward thinking, educated and liberated and in control of their own bodies, they want to be sexy and beautiful because it makes them feel good as much as it pleases their partner. Another factor was I'd often help my friends find something to wear for special occasions or parties and I'd see their faces just beam when they found something that helped them feel sexy and confident. I remember one night in particular we were having drinks with a friend, who is a bit of a tom boy and a no-nonsense kind of girl, down to earth, low maintenance but massive fun, she'd do stuff like disappear from a party and come back having swapped entire outfits with her boyfriend. Anyway, somehow we started playing dress up and we got her into these super sexy outfits and she just couldn't believe how awesome she looked, we took some photos and they could of been a cover of a Roxy Music album, I wanted to bring that feeling to more women because it's really empowering.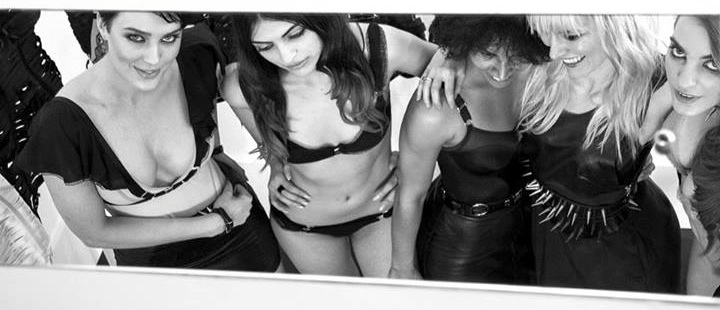 photo by Rita Zimmerman // Meg is the blonde babe second in from the right, in case you were wondering.
babylikestopony has a very clear focus and direction: it's what drew me to the website. How did you curate such a strong selection?
Thank you, that's so great to hear. I think the focus comes down to that we're doing something we really believe in, we could have invested in something that was profit driven but this is something that comes from the heart and I think that shows through. We focus on selecting unique products that are incredibly well designed and made, rather than focusing on products for profit. I'm also an online shop-a-holic and when I had free time, looking at gorgeous products online was one of my favorite pastimes so I already knew most of the designers we began with from my personal wish-lists!
What is the BLTP woman like? Where does she hang out, what does she drink, where does she work?
We just love our clientele, I go on about this all the time, many of our customers have become great friends, they're all such incredible, inspiring people but they're all unique. It's one of the greatest things about my job. There's such a huge range, from fashion students through mums, business women and retirees. The variety makes it hard to generalize but if I had to I'd say –
A BLTP woman is independent, smart and owns her sensuality. She's the girl at the party that has that inner glow that draws people to her, she chooses quality over quantity every time. She's fashion aware but always has her own sense of style and unique perspective. She's a leader, not a follower and she'd much rather hear someone say to her "Oh wow I love your ***, I've never seen anything like it" than "Oh wow I love your ***, Kim Kardashian has one just like it"
A BLTP woman will hang anywhere she's surrounded by the people she loves because that what makes her shine. With her favorite crew she has just as much fun at a BBQ as she does at the best restaurant in town, or dancing in a friends lounge room as in the best club.
She drinks champagne (perhaps even a little too much on occasions, oh no that's just me) and perhaps wine and cocktails.
BLTP women work everywhere, many own their own business or work as professionals such as bankers, doctors, scientists, lawyers, designers. But we have BLTP girls in all walks of life including celebrities, artists, call girls, yoga teachers, mums, military personnel…
What was your life like before opening a lingerie shop? What did you do back then, and how did you get to where you are today?
I had client management type roles in advertising and event management. Back then I had a lot more time and a lot more disposable income! I finished up a job in events just before the Christmas break one year. We went away over New Years with a group of friends and after after a few drinks I found myself agreeing to start a business with one of them. After a couple of months of working together it became apparent that we had slightly different outlooks and our skill sets weren't as complimentary as we hoped, so I left. I had however learnt that I enjoyed being my own boss but that I didn't have the discipline to be self-employed doing something I wasn't particularly passionate about.
Where did you go to school, what did you major in, and what did you think life would be like/what did you want to pursue upon graduating? Different from what happened?
I went to school in Sydney's South, it's a very vanilla area on the beach but my real education began escaping the suburbs and spending way too many early mornings stumbling out of Sydney's gay dance bars with my friends. Guess I was the ultimate handbag. I kind of stumbled into advertising, starting in reception and working my way up. I don't think I had any strong plans back then beyond having fun and maybe marrying a rich husband. Lord knows how I expected to find one of those at a gay club!
What is your favorite/least favorite part of owning an e-boutique (be honest!)?
Worst is the enormous amount of work and the stress and hours that come with it. If something needs to be done, and A LOT needs to be done, you just have to do it. I work six days and five or six nights a week (most of the time I'm messaging you it's about 4:00 a.m. here)! So it doesn't really leave time for much else and I really miss spending more time with my partner and my friends. Then there are those days that remind me why I'm doing this. A customer will post a pic of themselves on Instagram looking amazing, someone will squeal in the change room 'aaaah, I looooove this!' I'll meet someone randomly at a party and they'll tell me how much they admire what we're doing, even a busy day in the store or an uptick in online sales, the stress levels drop and I let myself take a break and smile. It is so fulfilling to get positive feedback from our customers and see something grow from a tiny little idea to a real business and brand that people genuinely love.
What's a day in your life like?
Lets see: cuddle the kitten in bed while checking social media and emails that have come in over night; breakfast and a cursory attempt at keeping the house in order; realise I'm running late and throw something on and run to open the store; more emails, looking after customers, getting online orders packaged and shipped, organizing press loans and… we might grab some dinner on the way home or maybe catch up with friends for a quick drink then it's working with our overseas suppliers and clients for a few more hours before bed.
Are you currently a one-woman show? Or, alternatively, who's on your team?
Yes and no, I'm really fortunate to have the most amazing supportive friends and partner who I couldn't do this without, they all help with  things when they can but they have their own lives too so I'm the only one who's working on babylikestopony full time. My fiancé Ian is incredibly supportive and I literally couldn't have done any of it without him, he does the branding and helps with some of the communications load as that's his day job, he's good at that side of things. My close girlfriend Samara is my right hand and helps run the store when I can't be there, but she's building her own career as a stylist. Many other friends pitch in and help when they can, we've had dear friends help with lots from setting up stores to spending their Friday night sanding the shop floors, a task I wouldn't wish on my worst enemy. Never again.
Was there a defining moment when you decided to launch the shop? Tell us about it (we love these stories).
It was a culmination of many things, I'd talked with my partner about doing some variation for awhile and eventually found myself in a position to do it. We built the site in our free time over many months I was determined to get it launched one evening and some friends were hassling us because we hadn't been out for a while while we'd been working on the site. We cut a deal where they agreed to come over and help, we got a bucket load of wine and drank and chatted while we all worked on putting the final touches on the site, it was actually a lot of fun and worked out pretty well.
What is the best advice you've ever received?I've been really fortunate to have a great mum as a role model, she's smart and independent and has given me a lot of advice, all of which I completely ignored :). Some of which I've later realised was actually pretty good, like you're far more likely to regret the things you didn't do than the things you do, so take some risks! A good friend also advised me not to give discounts to friends when starting up, as your friends will be your only clients at first and you can't afford to discount every sale — so true!
What advice would you give to someone who wants to try one of your pieces, but is a little shy about bondage / strappiness?There really isn't anything to be afraid of, it's rather a big leap from strappy lingerie to being locked in a dungeon! As much as I love the 'bondage' influence that can be seen in some of our ranges, many of our clients appreciate the design purely from a fashion aesthetic. Many women who have a more contemporary take on fashion wouldn't choose to wear floral or lacy outerwear, so why should they have to wear it as underwear? And if you take away floral, lacy, frilly and vintage styles you're mostly left with rather boring lingerie unless you spice it up with something a bit more contemporary like straps. The staps can be used to create such stunning architectural shapes and lines that look so good on the body, that most people fall in love after trying some of the styles on regardless of any preconceived ideas they might have had. And besides, it's not all bondage / strappiness! We have some exquisite feminine pieces like the silk gowns and the Made by Niki fringing and tulle pieces, as well as cheeky fun pieces like the La Fille d'O Range. I think we can cover most requirements, just don't ask for tacky or poor quality.
The purpose of that je ne sais quoi has become two-fold. It's to inspire women to feel beautiful, and also to lift the bad rap that bondage, boudoir and lingerie get due to 1) the rise of raunch culture/bad porn/mostly terrible imagery associated with it, and 2) society's ignorance and fear. Can you speak to any (or one specific one, if that's easier) struggles or judgments you've faced because of the industry you're in? [Editor's note: in reaction to my blog, I either get a totally fascinated new fan or someone who is like "oh, you must be a slut" – so disheartening.]
Wow. Could have written that myself, perhaps less eloquently though, totally echoes what inspired babylikestopony, no wonder we clicked. Socially it's not an issue but a couple of times I've had guys stumble into the store who just don't get it. They think that because of the provocative nature of the store I must be DTF! It's actually quite funny, that despite my constant turn downs and explanations, ring on finger etc. they still persist. Another interesting response was a couple who we're shopping together, the woman seemed really lovely but the guy was quite abrasive and demanding, even a little rude in the way he spoke to his partner and I. I instantly disliked him but later realised they must have had a dom/sub relationship. I think because of the nature of the store he assumed I would be OK with it, and whilst I'm glad they were having fun, I never signed up to be his sub so I think him treating me as such is rude – BDSM 1o1 – consenting adults please!
Every entrepreneur has to take a leap of faith. Could you share your biggest fears, dreams and one really good/crazy/fun/awesome moment story?
Hmmm, this one's hard. Probably the biggest leap of faith we've taken was committing to the new much bigger (and more expensive) store. We already had a lease on our old store which had come about almost accidentally, but it was a much considerably larger financial commitment to move into the new store. Very glad we did though, it's much more well suited to babylikestopony.
What advice would you give to an aspiring lingerie / boudoir boutique owner?
Do what you love, it's a lot of hard work and you need to be in it for the long haul, so you better like it. Have friends around you that will support you and pick you up when you're in pieces on the floor and don't rush in, test as you go with baby steps and you won't ever be in too big a mess. But be brave, take calculated risks and keep learning.
What is your style signature and who is your style muse?
I love wearing pieces from the store as part of everyday fashion outfits so aside from harnesses and belts over things I like outfits where details of what's below can be seen without being too provocative for everyday wear, so lots of dresses and tops with sheer/cut away detailing on the back and neck. Black, black, black! Not sure I have a muse, I have total a total style crush on some clients who are an architect duo. Every time I see them I'm in awe over their outfits and they're just the sweetest most talented people. In terms of celebrities, I adore and envy Alia Wang, that girl can dress!
Which lingerie brands fill up most of your own boudoir?
It's all of our brands, I always get the designers and styles I love the most for the store and I pretty much have to wear them myself (tough life hey ;)). As that's the only way you really get to know how they wear, the fit, any issues that might come up with how they're cared for etc. I think people really appreciate that kind of first hand information that when investing in our pieces.
I know if I were a boutique owner, I'd want one of everything! How do you temper the desire to expand on your own wardrobe… or conversely, do you do it anyway ;)?
Unfortunately I do have to limit myself, it's very difficult because everything I bring into the store are styles I love. I have to remind myself that every piece I keep instead of selling is capital I could have invested back in the business, and buying even more delicious pieces. The upside is I get to own more than I probably would have been able to justify otherwise so I can't really complain, and where as before I'd find an incredible brand that's not available in Australia and be frustrated now I think, let's bring those babies in!
A guilty pleasure?
Haha, where to start … late night shopping sprees on fashion purchases I can't afford perhaps.
Last book you read?
Do lingerie catalogues count? I read Where The Wild Things Are to my niece recently. Other than that it's been way too long since I've had the time to indulge in a book, I had to look in my nightstand drawer just now and found several books I've started and not finished which is so not like me! When I can be I'm an avid reader and normally have trouble putting a book down once I pick it up. I'd often forget about everything else and devour whole books in a couple of sittings which is why I'm afraid to get into one at the moment.
Three things every woman should have in her closet?
I might skip the obvious LBD, nice tailored black suit, white shirt etc. because we've already heard that a million times. Some less obvious essentials for me are a gorgeous statement coat, and a pair of tall flat leather boots. I've got a Rick Owens coat and a pair of thigh high Zanotti flats and I swear you could put almost anything under them and still look stylish all winter! Of course the third would have to be a set of lingerie that makes you feel a million dollars. The most attractive thing a woman can wear is confidence, and I believe the right lingerie has the ability to make a woman feel more amazing than any other garment.
Miss Megaera's favorite things:
Band: Changes all the time but Iggy Azaelia's 'Work' has been my theme song these last few months.
Food: Cheese is definitely a contender, I just finished of a couple of hundred grams of St Agur (my fave blue) that I only bought yesterday – oops! And Tamarillos, I've always loved them but they're back in season at the moment and I'm falling in love again.
Drink: Champagne of course.
Ice cream flavor: There's a great place near us called Gelato Messina that has loads of mouth watering flavors, Salted Coconut and Mango is doing it for me at the moment.
Artist: That would be impossible to decide except that one of my faves is also a good friend so I guess that gives Nanami Cowdroy the edge! Her work has always been phenomenal, and she's exploring some new themes at the moment that I'm loving more than ever. Have been wanting to buy a piece from Candice Tripp for a while now too.
Photographer: Absolutely love Ellen von Unwerth.
Designer: So tricky, haven't had much time to check out that latest shows but an enduring favorite who never seems to miss the mark is Australian designer Dion Lee.
Lingerie Brand: So many but I guess Bordelle as that's the first major brand we started the store with.
Shoes: My crazy sculpted heal-less thigh high Zanotti boots! (These ones, not the flats I was referring to earlier.)
Restaurant: Our amazing friend has a restaurant in Sydney called Gastro Park, it's a two hatted (Australia's Michelin Stars) gastronomic science fair. We went again recently for our anniversary and it was wonderful.
Lingerie shop (other than your own!): I really like Mise en Cage in Paris and Pleasurements in Amsterdam. Fifi Chachnil have really cute stores that in Paris and London that I'd love to visit too especially because they have some darling Sydney girls running them.
Beauty product: Dior's Skinflash Radiance Booster Pen. It's their version of YSL's iconic Touche Eclat but I like the formulation a bit better. Great for hiding the evidence of late nights!
If you could only choose one…
Pair of shoes: I have a pair of boots from Australian fashion label Willow that I wear a lot, they're stylish and comfortable enough to stand in all day and have a bit of a heel so they're not too casual. Geri Halliwell actually liked them so much when she came into the store today that she took pics and made a note of where they came from so I guess that's a compliment!
Top: My Helmut Lang 'Vena' T is a great basic top, it's simple but has nice subtle detailing like an asymmetrical hem and of course the back is sheer to show off my favorite bras!
Jeans: They'd have to be leather, I don't really wear denim. My DL1961 'Hazel' leather pants have been my go-to over winter, love the soft leather and gold hard wear.
Bag: I'm totally crushing on a couple from a new leather designer that I'd like to get in for the store, but I don't want to say too much until I've seen them in real life. Until then perhaps a classic Chanel (caviar) bag with gold hardware, it's one of the few 'classic' pieces I would wear!
Fragrance: Anything by Comme de Garçons.
Where do you see yourself in five years? Ten?
We'd really like to take the concept of babylikestopony to more cities, so ideally we'd have some more locations established and be able to travel more to help manage their growth as well as continue sourcing new exciting labels.
What are some of the things you dream about for BLTP?So many dreams, there's so much we want to do sometimes it's frustrating that it all takes time. If I found a suitcase full of cash I'd do 10 things in the next six months, but we do have some exciting stuff planned in the near future, things like collaborations with artists and designers and expanding the pony empire to new locations.
Thank you so much, Meg! Your thoughtful answers made for an amazing interview. Let's give it up for her in the comments, guys! xox