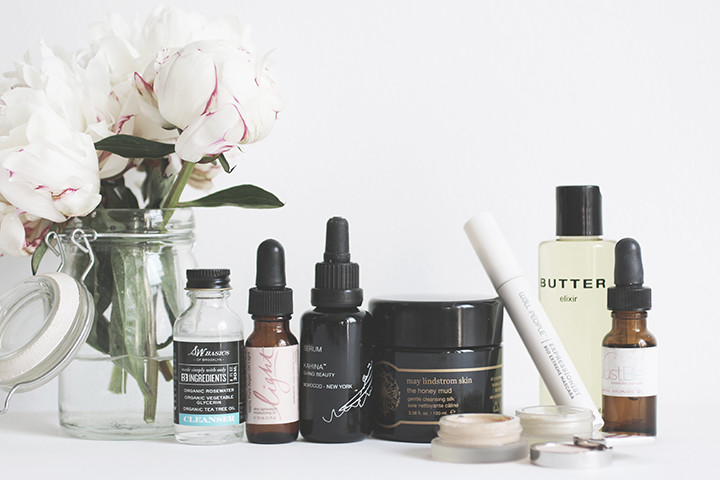 Slowly but surely, I've used up, retired or given away my arsenal of beauty products in favor of shorter ingredient lists, recognizable ingredients and endorsing brands that are making their products sustainably. I'd like to put stuff on my face that's actually good for the skin and the environment, not something that's harmful to both. I've learned a lot from reading Adina Grigore's (of S.W. Basics fame), Skin Cleanse — which I'll cover in an entirely separate post — but most importantly that simplification of ingredients is key to figuring out what your skin does and does not like. It's nearly impossible to do so when you're using even five or six products a day with ingredient lists that read more like a chemist's experiments than what's in the pantry. It sounds so basic, right? I love how she acknowledges in the first few pages that she's not telling us anything new, it establishes a trusting and friendly tone, rather than the tsk tsk tsk guilt trip most publications advocating a change in lifestyle relay. It's really nice sometimes, in a world that is so focused on anti-aging, pore shrinkage and the latest 48+ hour eyeliner to have an affirmation of your current coconut oil habits. Right? According to Adina, you'll find effective and good-for-you skincare right in your kitchen, which is a relief of both time and money, and is good for our health. But since I haven't mastered my own apothecary quite yet, here is a list of my current favorite products, both for daily use and once-in-a-while indulgences because Sunday Spa Day has definitely become a thing in this household.
I'd love to hear if you've tried any of these products, or if you have any current organic, natural or sustainable faves. Some brands are so small and niche, I find old fashioned word of mouth is often the best delivery system.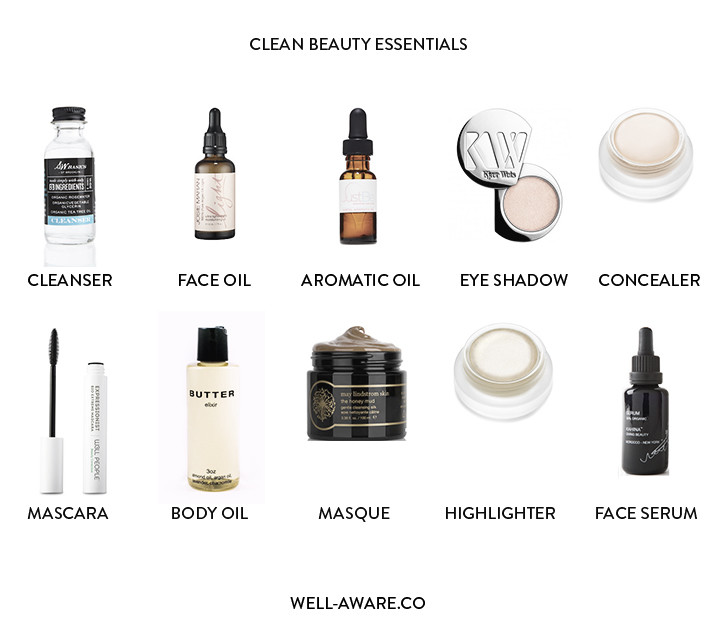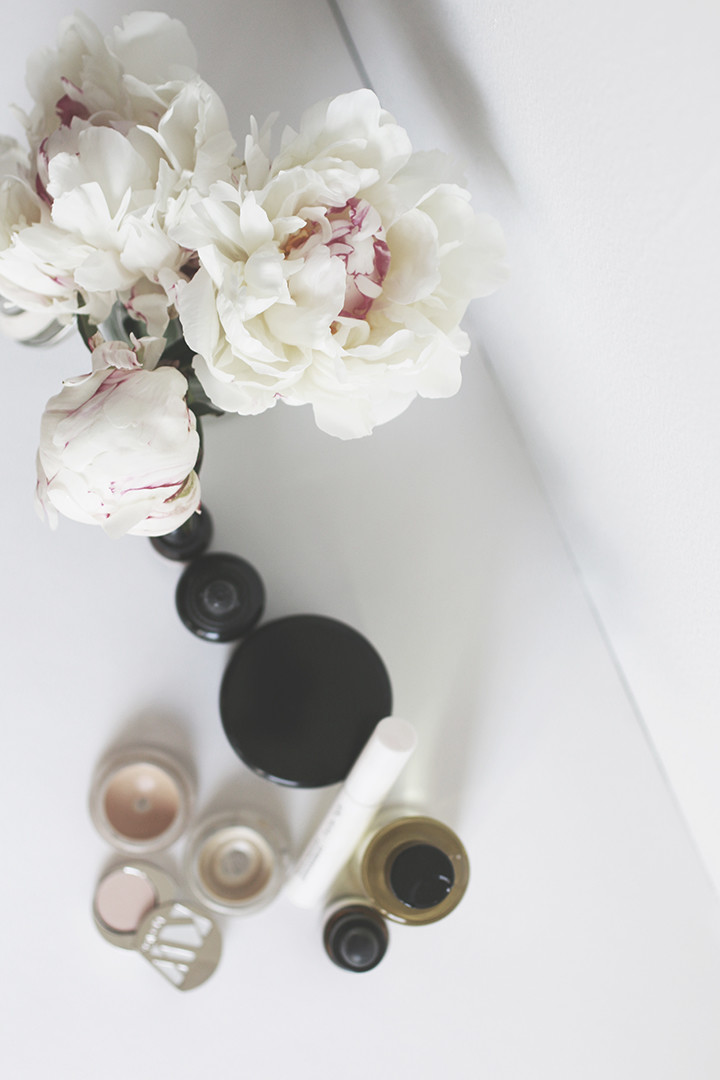 EVERYDAY RITUALS
With only three ingredients — all of which are organic — how could you go wrong? These days I've been cleansing only on days I workout… I thought it was gross at first too. But after reading S.W. Basic's founder Adina Grigore's book Skin Cleanse, I realized just how many products, ingredients and chemicals I was putting on my skin several times a day, and that they were causing breakouts.
Josie Maran 100% Pure Argan Oil Light
I used to use the regular stuff, but figured I'd give this one a try for absolutely no reason other than pure curiosity. Can you tell I'm a recovering beauty junkie? The light is similar, I find it actually absorbs a bit more quickly and makes it easier to layer a tinted moisturizer or sunscreen on top.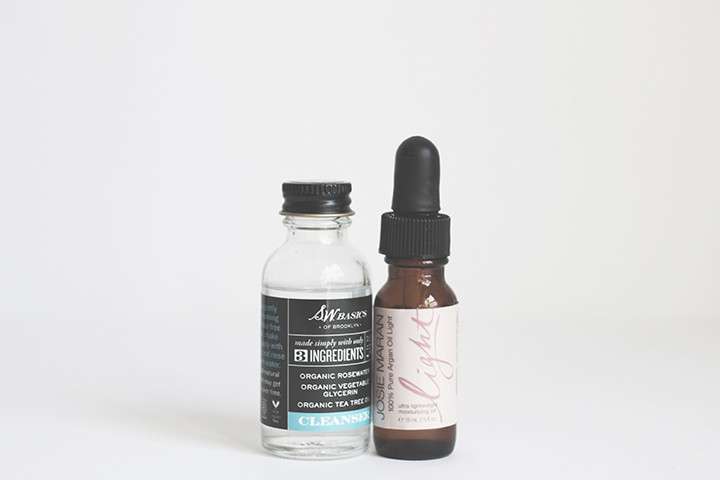 This is meant to be a face oil, but I started using it on my shoulders and decollete as a fragrance. The scent makes me feel like a goddess – it's more grown up than my signature scent and evokes a bit of mystery, too. All of Just Be's skin care products are reiki-ed with positive words and music. They're also so pure, they're actually edible, impressed on both counts.
A little dab on the cheekbones and the cupid's bow is like angel kisses that enliven a tired face. I use this almost daily, but if I've had a particularly late night, I combine it with the uncover up and use under eyes as well – the glimmer (glimmer, because it's far too subtle to call it shimmer) hides dark circles by reflecting light from them.
This isn't a concealer that will stay where you put it for 24 hours, surviving a night out, showers and sleep, but that's not what I look for in a concealer. Concealer goes on some of the most sensitive areas of our face, under the eyes, around the nose, on a blemish. I look for a formula that's going to look great but also nourish the skin, and this one does the trick. I wear 00 because I'm as fair as they come, but the shades are pretty blendable — it worked just as well when I had some color in Mexico.
I've struggled to find a powder shadow that's a similar shade to my favorite not-all-natural shadow brand, Urban Decay (specifically, the matte palette), and this one is the closest by a long shot. You can buy refills for this beautiful compact instead of throwing it out time and time again, and it's all organic. Your eyes will thank you!
W3ll People Bio Extreme Mascara
I love the formula of this mascara, but I have a confession — I'm not a huge fan of the brush. Simple enough, though, I swap it out with a larger, fluffier mascara wand (I usually wash off a Maybelline brush or DiorShow brush) and voila, long lasting, volumizing natural mascara. I won't tell anyone you're breaking the beauty rules ;).
SUNDAY SPA DAY
I became so addicted to this cleanser that I actually started using it daily — honey! Honey is absolutely magical for the skin, it's hydrating and detoxifying all at the same time. My favorite way to use this, though, is to let it sit as a mask for 15 – 30 minutes on my face right before a day or night out. The effects are instant and best followed with a brightening face oil (see below).
Kahina is absolutely a splurge, but this is hands-down the best and most effective clean beauty serum I've come across. I actually originally bought a trial version of the Kahina suite, expecting the brightening serum to be the best but found that this one worked much better. It's not for everyday, though, I tend to use it a few days before a big event or like to give it as a gift.
This smells heavenly and is an absolute treat for the muscles. I usually apply after a post-workout shower with some massaging motion (especially for tired running legs). I love how it makes arms and legs look extra summery with a subtle glisten.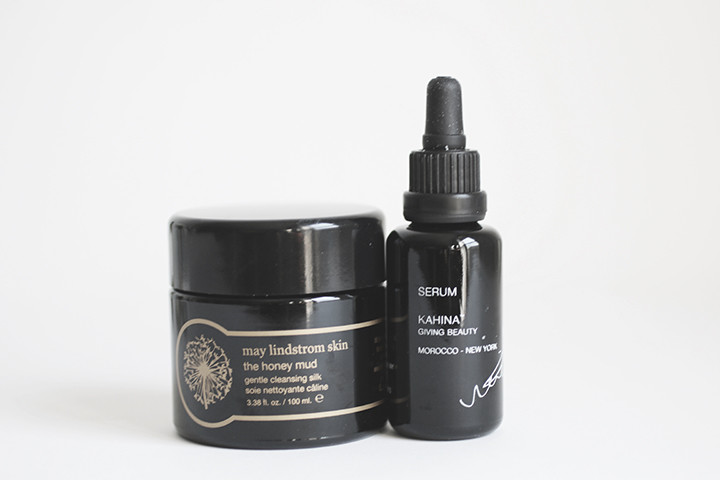 Do you have any favorite DIY beauty recipes or good-for-you products?