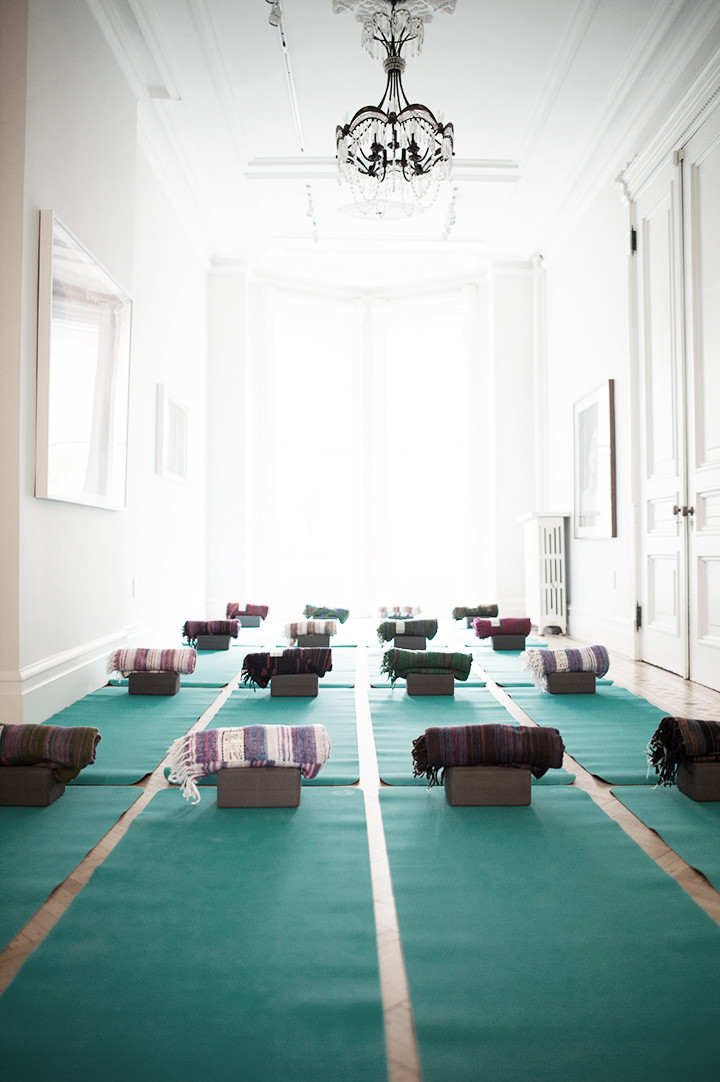 A retreat always sounds like a good idea. But after the research, tallying vacation days and figuring cost, that bright prospective often quickly turns dim. Whether your good friends approach you for a group weekend in an ashram upstate, or your favorite yoga teacher is leading an exotic yoga retreat in Nicaragua, there's always a reason not to go. Money, time and guilt are my leading "excuses," because to me, a retreat feels like the ultimate luxury. It's a vacation focused entirely on you, how could it not?So when I heard about The Uplift Project, a weekend-long retreat held right here in Brooklyn for $475,  a cost that felt far more comfortable than an exotic vacation, I was intrigued and decided then and there that I'd find a way to go and document the experience. I'm curious: have you all been on retreats? Which ones? Did you find they were worth it? Did you bring friends or a partner, or did you go solo? Please let me know in the comments!
Uplift 001 was exactly what its name implies. If I were to describe the spirit of the gathering in one word, it would be nurturing. It was a warm, safe and introspective experience. For me, the "Uplift" was buoyed not only by the speakers who were sharing their inspiring journeys (Light Watkins, Jillian Turecki of Kula Yoga, Jessa Blades and Amy Chaplin, to name a few), but even more so from the support of other retreaters. Their presence and our shared mission created a trust that enabled me to go deeper.
As weird as it is, the visual that comes to me as I describe this "uplifting" feeling is a body suspended in air horizontally. From underneath, the ground roots support came from the group, pushing up against the back body, holding it in place and preventing it from falling. The speakers were the lift, pulling the body up, up, up from the heart center, making it expansive and light. That's the spirit of Uplift, and that's how it felt to be Uplifted.
I had no idea how much I needed that healing energy until I had permission to completely let go.  The food was prepared, our cell phones were tucked away and Katia was minding the time. Let's be real, as someone who takes "taking care" very seriously, it was an incredible load off to know that I was in good hands. The two co-founders of Uplift make a great team, and were such a pleasure to talk to. Katia is a full-time mind body psychotherapist, who's found a passion in organizing reatreats with meditation leader Thom Knoles, and Andrea is a strategist and trend forecaster — it was reassuring to have like-minded professionals understand exactly the kind of release and unwinding we all needed.
Everything was taken care of — there was nothing to stress about externally, which allowed me to turn my focus in. I was able to finally put a magnifying glass on what was happening in my mind and body, and experience some insights I wouldn't have otherwise. That Saturday, November 7, 2015, was like hanging out with old friends, even though I walked in without knowing anyone. It was the strangest thing. I believe that space was full of soul-mates, because we all trusted each other immediately, shared our own stories and got to know each other. It just felt like home. It felt right, and where I was meant to be.
In full disclosure, Andrea and Katia invited me to this special weekend so I could share my experience. In doubly full disclosure, I would have gone and shared it anyway. As with most of my relationships through WELL / AWARE, we discovered each other through Instagram and got to talking that way. We bonded immediately as we have a shared mission and provide support for each other.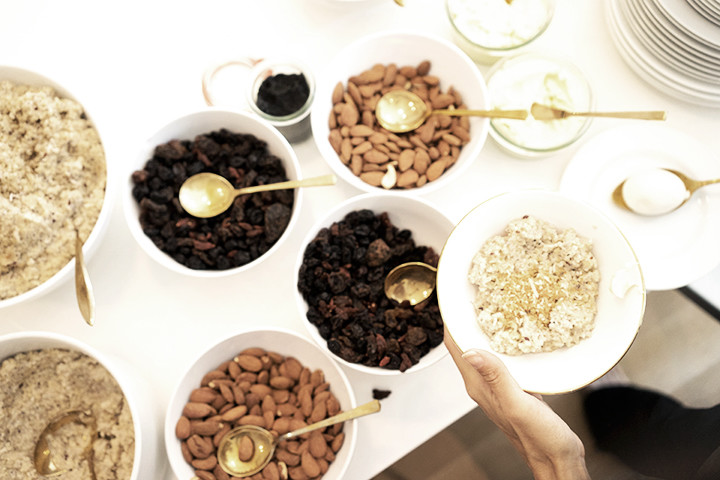 THOUGHTS ON RETREATS
To be honest, I wasn't completely sold on the idea of an "urban retreat" in the beginning. Though I've never been on one myself due to the aforementioned cost and time restrictions, I know enough people who have to understand that being uprooted from your surroundings is one of the keys to a successful retreat. What I didn't realize was how that can be a drawback… it's easy to keep those habits while you're surrounded by palm trees, white sand and breezy bliss, escaped from your reality. But how do you handle the stress and the everyday with your new learnings? Uplift bore that advantage because it was held so close to home — it was easy and fun to integrate new rituals and insights into life right away.
I also thought that the structure of the day didn't have enough occupied time at first. There was so much time set aside for drinking tea, I was certain we'd get bored in between discussions. In fact, the opposite was true. Tea time actually ended up being my favorite time: time to chat about what was just discussed with new, like minded friends, discover similarities and overlapping social circles, habits, tricks and rituals. Tea time was magical. I'm missing tea time in my life.
STRUCTURE
I was only able to attend for Saturday (much to my chagrin) — the schedule went like this:
Breakfast
Light Watkins
Tea Time
Jessa Blades
Lunch
Beauty
Tea Time
Wellness Panel
Silent Walk
The Class
Meeting briefly, head home
MORNING SESSIONS
The day started off in a beautiful Brooklyn brownstone in Clinton Hill. We had a light breakfast of green juice, tea, yogurt, granola and fruit as we milled about the parlor floor, introducing ourselves. I have to admit I was a little nervous everyone else would know each other, but thankfully they didn't. We all quickly got over ourselves and made fast friends.
LIGHT WATKINS  – Meditation philosophy
Our first speaker — and I use this term lightly, because he was on a couch in a living room and we were all on the floor, it was incredibly intimate — was Light Watkins, author of The Inner Gym, a guide to meditation. For the record, yes, I did ask if Light was his real name, and he confirmed it is, but it wasn't always. He wouldn't tell me his old name, but he did say that changing it was part of a dare and he never looked back.
Light started off by differentiating between meditation teachers, who give you applicable instructions on technique and meditation guides, who lead you through a practice. He, of course, is a teacher. He maintains that we all have a baseline level of happiness, and keeping a regular meditation practice is one way to increase that baseline. Meditation neutralizes stress triggers, ultimately helping you reconsider your habitual reaction in the light of creating a life you want. As Tony Robbins said, and I'm paraphrasing, your destiny lies in the choices you make, and a regular meditation practice helps us be more aware of the space between consideration and action. The goal is to have the space to make a choice that guides us to where we want to be, not just what's pleasurable in the moment.
Quantum physics! Yep, we went there. On the most fundamental level, everything is vibration according to Light (and physics). If you think about what everything is made of: atoms, protons, electrons, quarks, leptoquarks, neutrinos and bozons, he's right, everything is vibrating and everything has an energy. One way to think about matter and energy is to liken it to the ocean and the wave. The ocean is the mass, the matter, but the wave is the energy. They are entirely dependent on one another to generate a thing that's greater than the sum of its parts. The same is true with energy: your body is the mass, the matter, but your vibrations are your energy — how you move, how you interact with others and the world around you. Meditation can help shift your energy in a positive way.
JESSA BLADES – Plant-based healing
I'm so glad Jessa was here to chat with us about natural beauty and plant-based healing: a topic I feel strongly about. I've been studying natural beauty since 2006 — after an internship at a company called Kaia House, I became aware of the toxins that most American beauty products contained and their affects on health and well being. Although the internship ended, I couldn't un-know what I now knew. I was completely obsessed with hair, makeup and beauty as a kid, and felt a pang of guilt every time I put on Dove deodorant, used my beloved Kerastase shampoo or bought a refill of my Laura Mercier tinted moisturizer.
Thankfully since then, our options for organic beauty have expanded dramatically. Now there are shops like Cap Beauty who make natural chic, but for so long this kind of discernment in the beauty world was relegated to "hippie" territory, easily brushed off by the mainstream. Now it's the hippie lore that's intriguing people! Finally. And Jessa had a ton to share. She passed around books that helped her self-study, some pictured here. What I'm most excited about is natural birth control, which we didn't have a chance to talk about. (Rumor has it Jessa will be on the podcast soon, so more to come on that.)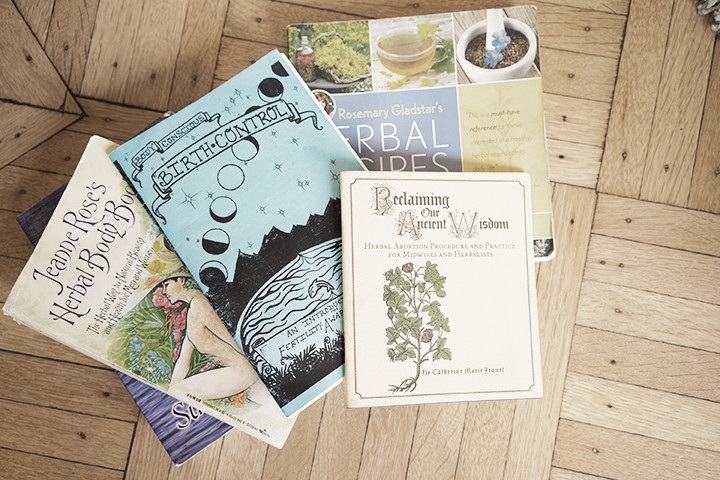 I also really appreciated her approach. It's important to educate people on the risks of mainstream products, but she delivers knowledge in a loving way, it's not militant or a scare-tactic. It took me years to go all-natural, and there are still things I have in my bathroom vanity, makeup stash and kitchen cabinets that are downright toxic. It takes time to find natural alternatives that work for you.
When it comes to beauty and self-care, we have to remember how the movement started: with food. People started paying attention to food labels when the treatment of animals, pesticides and GMOs, and the dangers of them, were brought to light. The same is going to happen in the beauty community too. Many of the fillers, fragrances, preservatives and colors in our favorite, long-loved beauty products are toxic endocrine disruptors, carcinogens and neurotoxins. Europe bans 1300 ingredients in its cosmetics, while the US bans nine. Nine! Can you believe it?
Jessa told us all about the Womens Herbal Conference, which takes place in Vermont every August. I don't know much about it, but was intrigued as it sounds like it's reviving a lost art and if it wasn't right before my wedding next year I'd be there. Perhaps I will see you there in 2017.
Everyone was so interested in her recommendations that her presentation was side tracked by catering to custom questions, which useful and relevant, but be sure to tune into the WELL / AWARE Show in the coming weeks to get more Jessa.
If you want to find her in the meantime, she has an online shop, and hosts workshops and herbal cosmic cocktail hours — which I plan on attending in the near future!
AFTERNOON SESSIONS
WELLNESS PANEL – Balance
After lunch, Andrea moderated a panel all about finding balance. This was definitely my favorite part of the "discussions" as we were able to ask questions about the habits of people who are living a lifestyle devoted to wellness, and who are well studied in their areas of expertise. It was also reassuring to hear they too have challenges with balance, and are still learning how to conquer them.
The panelists included:
JILLIAN TURECKI – Life coach and Kula-trained yoga teacher whose practice is about personal fulfillment.
KATIA TALLARICO – Holistic psychotherapist, who focuses on the connection between mind and body.
AMY CHAPLIN – Whole foods (not to be confused with the store) chef who celebrates the art of eating well.
LIGHT WATKINS – Author of The Inner Gym and meditation teacher.
JESSA BLADES – Natural and holistic beauty expert.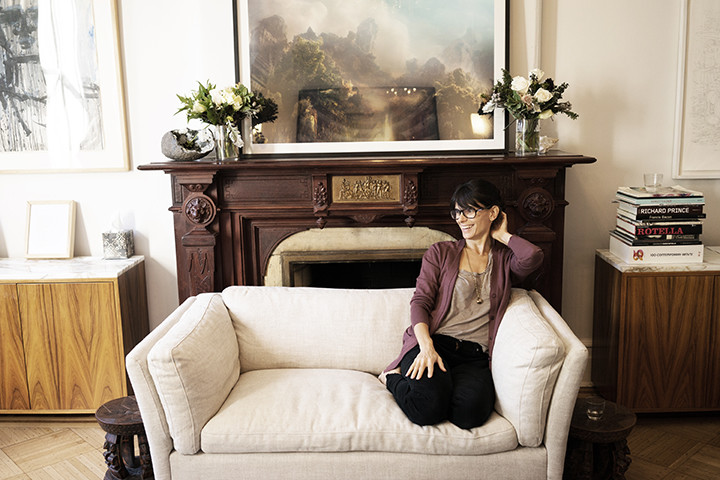 I think that, for the most part, we live life out of balance. Moment to moment, day to day, of course it's going to be out of balance. It's when we zoom out and look at larger chunks of life holistically, that we need to make sure our own needs are met is what leads to true balance.
There were three questions I thought yielded the most interesting answers. For easy reading, I've broken them all out below with paraphrased answers. I hope they are as helpful and insightful for you as they were for me.
What does balance mean to you?
Amy: Giving myself permission to say no, to cancel plans and not overdoing it. Giving yourself that "free thinking" time as often as you can — because that's where the mind expands.
Telltale sign of imbalance? When I start getting a sore throat, I know something's off.
Jillian: I think of my life in sections: spirit, friends, health, career, romance, joy and money / finances. On a scale of 1-10, is it possible to get them all to a 7? We go through phases in our lives, these phases favor a specific sphere. The question I always ask is, "Is what I'm doing bringing me closer to fulfillment?
Telltale sign of imbalance? Fatigue and stress.
Jessa: I don't think there's enough fun in the healing world. Sometimes you need to go out for a night on the town with your friends and not take everything so seriously. The value of fun, and being able to follow our intuition. We know what we need at most times.
Katia: I know I'm in balance if all my actions are serving my goal.
Light: Rest. Rest and being adaptable to flow and motion. If you're too comfortable in any given circumstance, you won't challenge the status quo. A little unknown if your life keeps you in creative mode.
What are your key rituals?
Light: Meditation, of course. I give myself a lot of leeway. Sometimes it's not perfect, and you have to embrace and accept what is.
Jillian: Yoga every day. I've been doing it for 12 years! The quality of our life is in direct relation to daily rituals. I love reading in the morning. I eat breakfast every day and make sure I have a bit of downtime in the evening. If I can't fall asleep at night, I do the ABC's of gratitude. I think of something I'm grateful for beginning with A, then B, then C and so on until I fall asleep.
Amy: Green tea, soaking oats and making two out of three meals a day very healthy. Also, gratitude. A gratitude practice will lift you out of any mood. And of course, cooking. For me, food is a deeper connection to people and to nature.
What has been your biggest recent self-care indulgence?
Amy: Canceling a trip I had on the books.
Jillian: A day of no talking.
Jessa: Getting massages often.
Katia's Mom: It's so great to see you girls taking care of yourselves. In my generation, the women always put everyone else first. That's the way it was. If you're a giver, there will be takers who just take and take and take. It's good to experience self-care, and to see it so widely accepted among younger women. Also, I can assure you Katia takes very good care of herself.
THE CLASS + SILENT WALK
The day ended with one of my favorite new rituals, the class. Calling it a workout certainly speaks to the sweat, but feels more like an very active clearing of the body and the mind. It's more than a work. In order to get to the studio where we'd take the class, we walked in silence. It was a 15 minute walk, and to have permission to be silent was both incredible and incredibly daunting. I'm a worry wart by nature, so my first thought after leaving my cell phone behind in the beautiful Clinton Hill brownstone, our temporary beautiful home, was worry about whether there would be an emergency while I was away.
Once I got over that, I was able to take it all in. The colors of autumn foliage, shapes of buildings, others talking. It felt a little like watching life go by as a movie, which was both weird and fun. I'd do it again and I plan to.
The class itself was excellent. The idea is to push the body to physical fatigue to access stagnant emotions and literally throw them off the bones. Our guide, Natalie, had so much spunk, energy and devotion to teaching — she kept us going and after a long relaxing day, we needed that yang jolt.
The walk back was supposed to be silent, but wasn't. Our guards were down completely, and we were bonding over the class and everything else that happened earlier in the day. I felt a profound energy shift after just a few hours in a new place with new people.
Thank you, Andrea and Katia, for this lasting energy shift.
If you want to check out the Uplift Project 002 — Andrea and Katia will be hosting a mindful morning of art and meditation on Saturday, December 19 at the David Zwirner Gallery.
Let me know if you're going, and if you want to stay tuned on future events, follow Uplift on Insta.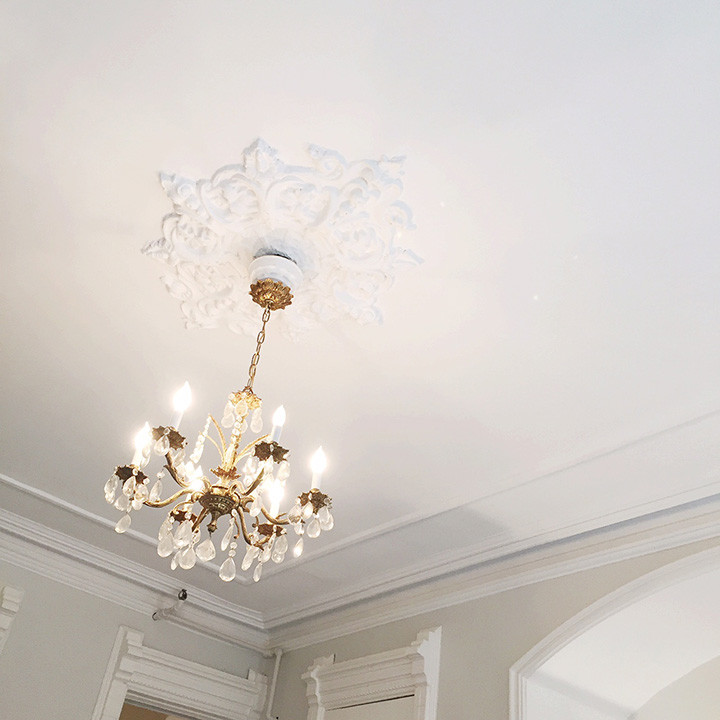 All photos except for the chandelier are courtesy of Victoria Masters.