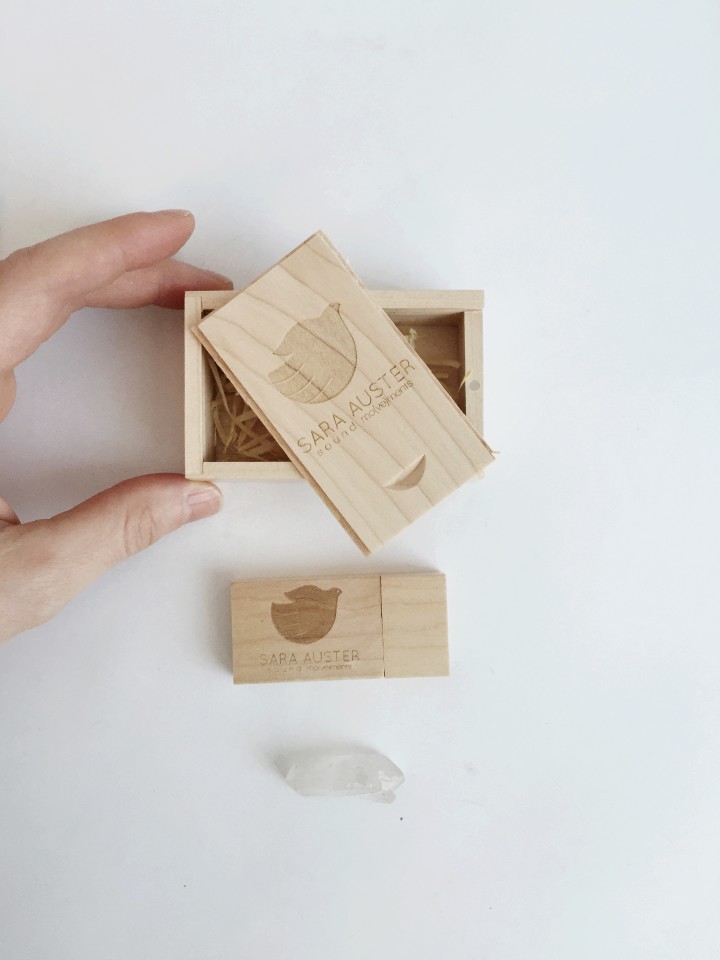 Today's conversation is with Sara Auster, a talented musician, artist, teacher and facilitator of sound baths in New York. My first sound bath was back in October of 2015 — I'm by no means pro-sound bather, I've just dipped my toes and found each one of my three sonic bathing instances to be different but equally beneficial. I have to admit, I didn't expect to have a deeply healing experience. But that's exactly what it was.
In fact, I wasn't sure what to expect at all. I didn't know if we'd be sitting upright, if eyes would be open or if I'd be expected to participate. That breezy October evening, I entered a large yoga studio in Soho, right on the most bustling stretch of Broadway. After my eyes adjusted, I joined others in creating a personal haven for the next hour and a half. We fixed yoga mats with lots of props like blankets, blocks and head rests to keep us comfortable in a circle around a collection of musical instruments neatly arranged on a throw. Sara Auster, our sound bath facilitator, came around to make sure everyone had what they needed and addressed questions, since there were a lot of sound bath virgins in the crowd.
Then, we took off. Eyes closed and zero effort exerted, the idea is to receive the sounds as you're exposed to them, reaping the benefits of the sound waves they produce. The sounds themselves were deeply relaxing, I was able to turn inward and not only listen to the sounds of himalyan singing bowls, rain sticks, tuning forks and even the sound of Sara's voice, but really soak them in. I loved it, and definitely wanted to go again. My second time sound bathing, I found myself trying to detect a pattern among the sounds, since I had what I thought was a blue print — but by doing so, I manifested anxiety because it was entirely different from the first experience and sound baths are improvised. No patterns. Not surprisingly, this search for order was a reflection of what was going on in life at the time, and although it was anxiety-inducing, it provided insight and awareness into a few things and that was helpful. I recommend bringing a journal, and setting aside some time to write afterward for this reason. Like meditation, you'll likely get up with lots of thoughts, and you won't want to lose them!
The third instance, which wasn't facilitated by Sara but by the equally talented but entirely different Aya & Tyler, was quite restorative. I had several revelations, inspirations and dreams, probably because we did some modern-shamanism body work before hand, and you know, circumstantial sleep deprivation.
In our episode, Sara and I discuss:
what is a sound bath?
how one becomes a sound bath facilitator
how your "sonic diet" affects your well being
her background in massage therapy, yoga and the arts
the one tragic / scary / insane life event that shifted her consciousness
Sara's light-switch moment from nightlife to wellness
what it means to "hold space" and how to do it well as a teacher, listener or healer
Sara's personal wellness rituals
This episode is for anyone wanting explore healing in a new modality, who has been to a sound bath and wants to know more, or is curious about trying a sound bath. I'm honored that Sara allowed me to share some of her signature sounds right in the episode — so listen to the intro and outro if you want a taste of what one type of sound bath sounds like. By the way, Sara offers her sounds on her website, so if you don't have access to a sound bath, pick up one of these beautiful wooden sound boxes (each one comes with a USB with full sound files and a crystal, of course), plug it in, get comfortable and go on your journey. In addition to the sound, the box includes digital imagery and notes on each of the tracks that provide context around the sound and its healing properties. She breaks it out by element: air, earth, ether, fire, water, crystal and voice. You'll hear crystal in the intro and ether in the outro. She also offers weekly sound meditations at MNDFL in New York: Wednesday evenings at MNDFL (30 and 45 minutes), and a monthly 90 minute session.
SHOW NOTES
Sara Auster: Instagram / Facebook
Twisted Trunk Yoga – where she facilities sound baths (next one is February 13, 7 – 8:30PM)
MNDFL Meditation – another place she holds sound baths, typically Wednesday evenings (30 and 45 minutes)
Thank you, Sara, for sharing your story and your sounds with us today!
Sounds used in this episode with permission of Sara Auster.
Podcast: Play in new window | Download | Embed