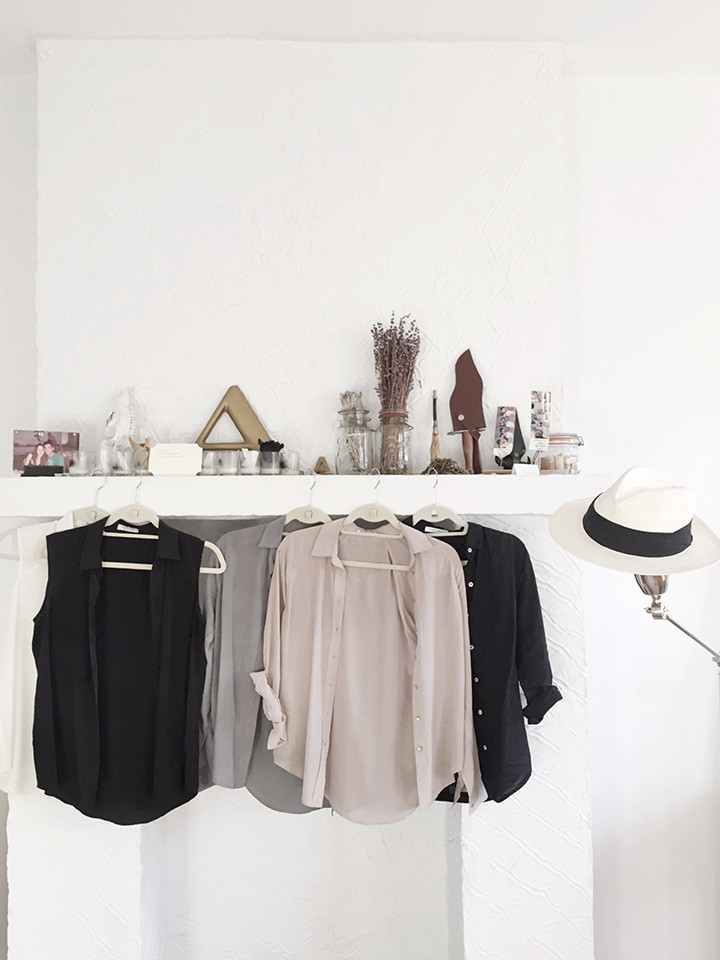 Pictured: Silk Everlane tanks (in black and white), Silk Everlane button ups, Cotton oversized Everlane oxford, gifted hat
When I was younger, one of the biggest reasons I refused to go to Catholic school was because I'd be forced to do the unthinkable: wear a uniform. There was nothing worse to me than blending in with everyone else; the autonomy seemed like a big sacrifice of freedom. After all, what you wear is one of the few things you can control as a young person. Looking back on it… a uniform wouldn't have been the worst thing. Oh, the fashion mistakes we make in junior high :). I love laughing at them. In one particularly memorable photo from tenth grade, I wore a tie around my neck, had quite literally ironed my hair (with an iron!) and lined my eyes all around — a look inspired by Avril Lavigne. Charming!
Thankfully, we evolve. Nowadays, my life has become so much about routine. Getting ready in the morning, working, grabbing lunch, working out, making dinner and doing it all over again the next day. Every day is different once I get to work, but I now have a reasonable idea of what I like and what I don't like. I enjoy feeling mostly polished and smelling good, but my junior high self insists any garment also be reflective of my personal style — slightly undone.
After successfully purging the apartment, thanks to the KonMari Method, and taking an honest look at what inspires me most via Pinterest, I gravitate toward minimalism. It makes sense: I seek zen, calm and shelter from the crazy that the day to day can bring — why wouldn't that reflect in one's sartorial choices?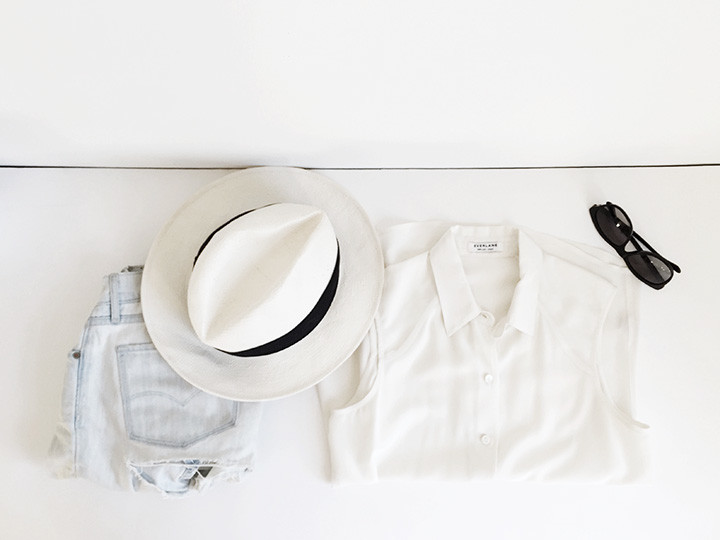 Pictured: Levi's (super worn and torn up), gifted hat, Everlane silk tank and Oliver People's shades
So I've happily settled on a uniform. A uniform, like a Konmari sweep, simplifies the day to day, leaving more energy to put into whatever you have in front of you. My ultimate goal a few years ago was to be able to blinding choose a top and bottom from the closet, or a dress, and not have to worry about whether they'd go together. In my perfect closet world, all pieces complement one another. My uniform consists of an oversized button up with variations on colors and styles (a big favorite is Everlane), and denim. Shoes add pizazz. Now that it's fall, I'll layer a light leather jacket over it, but the palette stays pretty much the same: grayscale, neutrals and touches of pink. My skin care regimen, makeup and accessories change but the basics stay the same. I guess you could say it's my year-round "capsule."
Finding a uniform is not a new thing, by any means. Steve Jobs had the notorious black turtle neck and mom jeans uniform, ironically many fashion designers have uniforms — Vera Wang, Carolina Herrera and Marc Jacobs to name just a few, even Marc Zuckerberg has his signature jeans, tee and hoodie.
I have a few investment pieces in mind I'd love to add, including a Tempest + Bentley sweater, pair of low-heeled booties, and a few work-appropriate but downtown cool pieces from conscious line, Elizabeth Suzanne. Do you have a uniform, or a few go-to outfits on heavy rotation? I'd love to hear the pieces you gravitate towards time and time again.