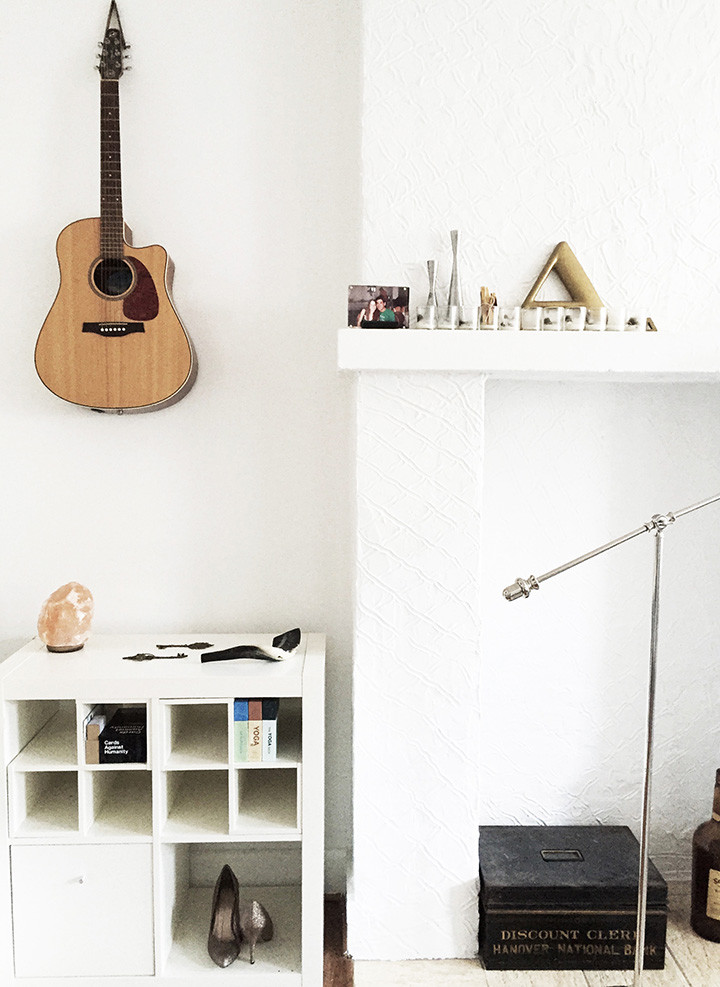 "That book makes me want to throw away everything," she said with a smile. "I had no idea how much my stuff was weighing me down." I looked up from my evening R train reading to find a kindred spirit, a slightly older Brooklyn-bound woman who also had Marie Kondo's The Life Changing Magic of Tidying Up in her satchel. We chatted for a few stops about how many bags we'd amassed thus far, whether our significant others would be on board and how good we felt after truly flushing out the waste in our lives. It was invigorating even just to discuss, and certainly confirmed any suspicions I had about tidying and minimalism as a movement, not just a flash in the pan.
Something about a clean slate is always appealing. Like I mentioned previously, it's a rare chance to do-over, start from scratch and implement new habits. This is especially true when it comes to the home. A healthy home touches all facets of life and is intricately connected to our physical, mental and emotional being. Ever go on a cleaning spree at one o'clock in the morning to de-stress, or feel frenzied because you have chores piled up at home even though you're nowhere near your house? Yeah, me too. The connection is absolutely real.
So how does one de-clutter her home and keep it that way without hiring a team of professionals? Evidently it's all about the approach. From personal experience, it's good to remember to tread lightly as fresh starts can easily become false starts. In order to truly transform your home, you have to be just as enamored by the habits and rituals themselves than the allure of a starting anew — otherwise you're setting yourself up for "failure," (in quotation marks because, of course, habits are elastic and can always be changed, even when you slip back into bad ones).
That's just who Marie Kondo sets out to help in her book, The Life Changing Magic of Tidying Up — the every person. We are relieved by the fact that you don't need to be a super duper minimalist or a clean freak in order to realize inner order with her guidance. Kondo's namesake KonMari Method caters to those of us who really crave that blank page, but have been unsuccessful in achieving it in the past. Her fundamental philosophy comes from the heart, not the head, that's my best guess as to why she's never had a repeat client and her book sales are through the roof! Talk about living WELL / AWARE.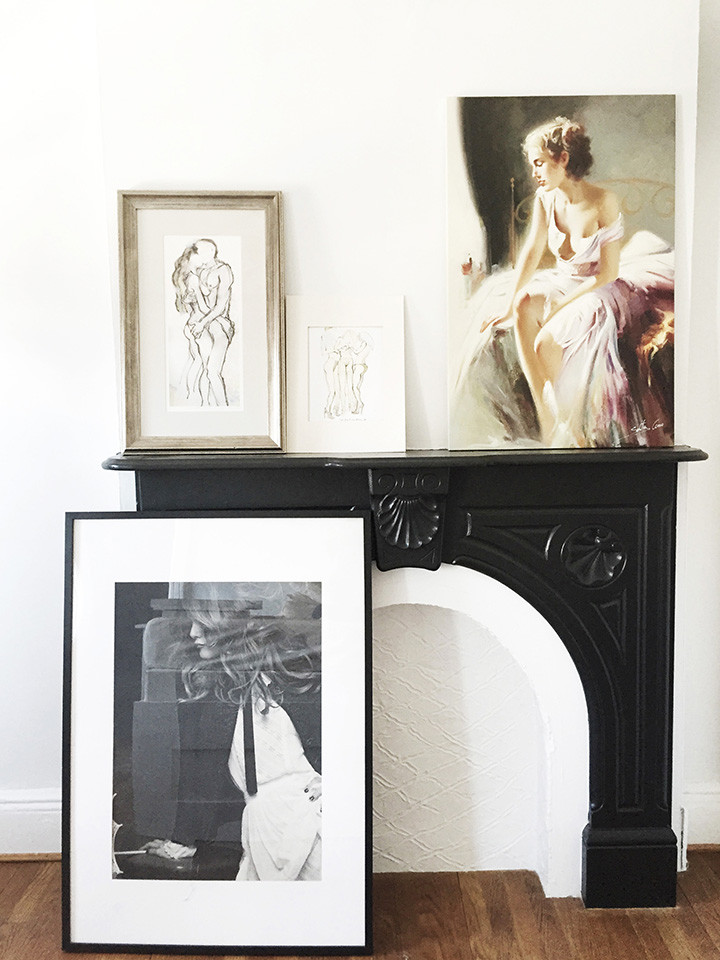 Fundamentals
The KonMari method is beautiful in its simplicity. It's easy to dismiss Kondo's self-taught, enthusiast approach to tidying but I don't think she'd be where she is without it. Her drive is admirable, her knowledge aplenty and her experience with clients has proven time and time again to be successful. Her approach to tidying can be broken down into two key principles.
– Tidy diligently, in one go. Tidying should be done all at once instead of gradually over time. This will undoubtedly seem counterintuitive, but Kondo maintains the contrast of before and after will stick with you, effectively preventing you from falling back into a pattern of collecting clutter.
– The only items to keep are those that bring you joy. Kondo instructs us to touch items with our hands to help gauge whether it brings us joy. If an item does not bring joy, discard it. If it does, keep it.
Doubts
Of course, the simplicity of the method as well as the method itself led me to question whether this would truly be sustainable. I've done a big "detox" before and have ended up needing to do them periodically again and again and again.
The main difference is the measure by which things are thrown out. Previously, sorting questions were similar to "Do I like this? Do I wear this? Will I wear it in the future?" — as it turns out, you can find a "function" for almost anything, but joy is rarer.
Which begs the question: does finding joy in an item outweigh practicality? What if something is functional but doesn't bring joy? I couldn't help but worry that I'd be throwing away a little too much.
Process
– Joining lives. I approached the process with a specific angle — I'd just gotten engaged and had been living with my partner for about a year. The apartment was still lacking cohesion. It was my stuff over here, his stuff over there, and not a joint expression of our lives together. Plus there was just too much stuff. Our space isn't small by New York standards (though it likely is by any others), but it's severely lacking in storage and therefore needed a sizable purge.
– 25+ trash bags. Between the two of us, we discarded enough items to fill more than twenty five trash bags. A good part of this was clothes we no longer wore or fit into, books, small appliances like a Soda Stream, DVDs we had no use for in the age of HD streaming, kitchen doubles (you would probably actually laugh at our 2×2 counter space), an office chair we both actually hated, old electronics, shoes, you name it. Things we kept were our most worn clothes, a few good pairs of shoes, good cooking knives, luggage, select books, updated tech equipment — really anything we use on the regular.
Drawbacks 
The biggest drawback I've experienced since taking the dive is purchase planning fatigue. I now weigh every purchase carefully, consider where the item is from, how it was made and how I will use and care for it. It doesn't sound like a lot but when you truly consider a thing's whole story and not just the end product, purchasing becomes a much slower, more deliberate process and it can be frustrating in today's fast paced world to not have an immediate solution to fill your needs, especially when others around you aren't consuming as consciously.
Benefits 
Freedom, efficiency, money and space. When you discard possessions that are weighing you down by their energy (whether you're aware or not – they are!), you feel lighter and more free. This is especially true of those hard decisions — sometimes you need to let go in order to feel liberated. 
I've been able to streamline segments of my life now that allow me to put more energy into other parts. For example, I've created somewhat of a life "uniform," which takes much of the guesswork out of getting dressed in the morning. Instead, I can spend my time doing yoga, writing or getting a head start on work for the day. While a little variety is good, I actually now take comfort in having less but better options to choose from.
Since my purchases now are more considered, I spend less money each year and think of pricing in terms of cost per wear. How much will I use this bag? Will I wear this dress many times this year?
And of course, space. It was important to me for us to have space to grow our life together. But beyond that, open space is one of the biggest luxuries in New York and I'm happy to report that we now have a fair amount. There's something about letting things flow through the space, instead of jam-packing it, that makes for sound home / body / mind connection.
Lessons
The KonMari method isn't just about getting rid of everything, but strengthening your relationship with the things you do have. By virtue of having a stronger relationship to your things, you will have less because your energy with which to relate to your things is finite. Kondo actually greets her home upon entering it and thanks her possessions for a job well done each day — it feels silly at first but this practice definitely helps heighten awareness of your belongings and how they serve you.
Storing things away in a closet is akin to suppressing an emotion, what you're hiding from owns you. So even though you can put something away where you don't see it, the noise and energy from this item will take away from yours.
Everything serves a purpose, even if that purpose is purely joy. Even if an item isn't functional, if it brings you joy it will enhance your home and your life.
So what do you think — will you take the plunge? Have you already? We want to hear your #KonMari stories!